Since 2002, IT Support LA has been providing dependable, affordable, flexible IT support to small- and mid-sized businesses in Los Angeles and surrounding areas. We specialize in handling a wide range of crucial IT support services so business owners can focus on what matters: growing, expanding and improving their companies. Unlike large companies, SMBs often can't justify having full-fledged IT departments, and they often make due with one or two employees who have limited IT knowledge and expertise. IT Support LA offers a happy medium by allowing small- and mid-sized Los Angeles businesses to enjoy the power of first-rate IT support without the overhead that goes along with establishing and maintaining a permanent, on-site team.
Common IT Problems Faced by SMBs
As the owner of a small- or mid-sized business, you're all too familiar with juggling your company's IT needs against its limited resources. At times, it probably feels like you spend more than half your time coping with technology problems instead of focusing on the growth and improvement of your business. Perhaps your IT system is flaky, unresponsive, slow or generally unreliable. You may not have a reliable way to securely back up your data; you may not have a definite disaster recovery plan in place, either. In fact, IT security may have fallen by the wayside. These and other IT tasks are of vital importance, and IT Support LA is ready to help.
IT Support LA to the Rescue
At IT Support LA, we understand the unique challenges and issues faced by small- and mid-sized businesses with regards to information technology. Because we specialize in assisting Los Angeles-based businesses like yours, we are able to tailor our services to suit your unique needs. For more than 13 years, we've been the name to trust for dependable, affordable, versatile IT support services in and around LA. No matter what kinds of pain points your business faces, we'll address them while remaining well within your budget.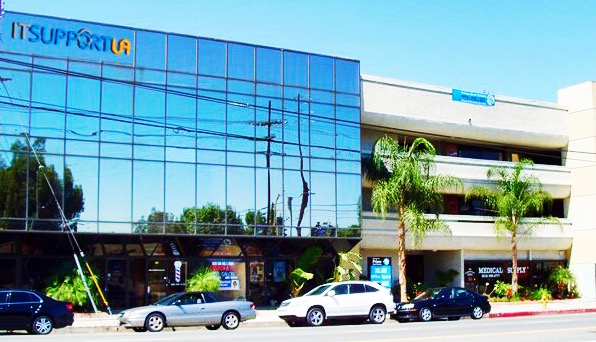 Your Total Los Angeles IT Solution
IT Support LA is pleased to tailor our services to suit the needs of our clients. We are ready to take on any job, whether it's in the form of regularly scheduled weekly or monthly visits by a dedicated IT support technician or for one-time assistance with a larger-than-usual project. Whether you're looking for full IT outsourcing or just need occasional assistance with once-off projects, you can count on IT Support LA.
Enjoy These Benefits with IT Support LA
If you're looking for help with your IT needs, IT Support LA has you covered. By hiring us, you'll enjoy these and many other great benefits:
Expertise - Our team is made up of highly experienced, extensively knowledgeable IT professionals. Their expertise ranges across all areas of IT, including data backup and recovery, IT security, system maintenance and much more.
Flexibility - IT Support LA offers a complete array of remote support tools, so we can often resolve issues from afar. We are equally capable of providing hands-on support, so there's no need to compromise. We offer regularly scheduled IT service plans, and we are also available for one-time assistance with complicated projects or issues.
Reputation - In the more than 13 years we've been in business, IT Support LA has earned many long-term customers. Our satisfied clients routinely refer others to us for their IT needs too. When it comes to IT support in Los Angeles, you can't do better.
Communication - You'll never be left hanging when you rely on IT Support LA for IT support for your SMB. We're here when you need us, and our response times couldn't be faster.
Savings - Thanks to IT Support LA, there's no need to invest vast amounts of money in a full-fledged IT department. You won't just save money by outsourcing your IT needs to us, though. You'll save time too. At long last, you can manage people -- not technology -- and your business is sure to be better for it.
Focus on What Matters with IT Support LA
Stop wasting time, money and other resources trying to handle your IT needs yourself. Thanks to IT Support LA, small- and mid-sized businesses can enjoy IT support that's every bit as excellent as that enjoyed by much larger companies. We're ready when you are, so give us a call today!