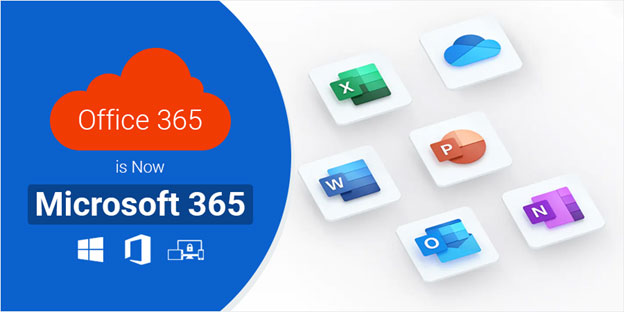 Microsoft Office 365
Office 365 isn't going away even though Microsoft incorporated it and rebranded it under their new umbrella name Microsoft 365. All of your favorite office apps will still be there. With the proliferation of  'Work from Home' status for tens of thousands of employees, more companies are turning to integrated, cloud-based solutions.
If you take a poll of the IT Support Los Angeles Community, you will not come up short on opinions. Some of it has to do with the strength of strategic partnerships. Some IT support firms are aligned with Microsoft 365, some with Google Workspace and some with both. At IT Support LA, we fall into that last category, although in our own Managed IT Services organization we use Office 365 (shh… don't tell Google). One question we hear over and over is:
What is so great about Office 365?
As the Cons tend to be weaker than the Pros, let's start with the Cons:
Cons

Internet Dependency: If the internet is down your ability to work and access files may be canceled or limited. However, many standard apps like Word and Excel also exist as desktop applications, so work can continue. Also, if your office internet connection is slow, working in the cloud on any platform will be frustrating.
Line of Business (LOB) Application Compatibility: Any application necessary to running your business is LOB and many are either proprietary or at least non-Microsoft. Think of industry-specific software for professions like Insurance, Medical, Legal, Accounting, and many others. Without careful integration into Office 365, these apps make come to loggerheads at times with the platform.
A capable Managed IT Services provider will not be surprised by these issues and will be able to sort through them and enact solutions. At IT Support LA we see and resolve software incompatibility on a fairly regular basis. In fact, we have integrated our industry-specific software that, if need be, our IT HelpDesk and field technicians can fix clients' network issues from their smart phones.
Cons which are also Pros:
1) Just like with standalone Word or Excel, the majority of users don't use or need about 75 to 80 percent of the total functionality – but it's all there if you need it. We often hear clients who wish they could do something a certain way, and we answer, "Office 365 can do that," and we show them how to do it.
2) That it is subscription based. Buying virtually anything technological means that you will have a capital expense every few years to upgrade, whereas with a subscription, it's constantly updated and upgraded. It's a matter of preference, as both methods of payment tend to be a wash.
Pros
Work from Home: Or work at the office, from a car, boat, plane, train – literally anywhere you have an internet connection.
Always Up to Date: There's a new version of Word, Excel, and others? No worries – it will be there without having to uninstall the old and reinstall the new.
Pay for What you Need: Not every department needs all of the same apps. Mix and Match plans so, for example, the assembly line managers aren't being charged for the same apps accounting needs. Upgrades or downgrades in plans are easily available.
World-Class Cybersecurity: Microsoft has always been the industry leader in security, and Office 365 offers better than what had been the best. There are many security features, but here are the Top 4:
1) Advanced Threat Analytics (ATA), coupled with Machine Learning spot malicious content trying to enter your network leaps and bounds better than quarantining and spam filtering.
2) Mobile Device Management: Centralized control for the protection of company data on employees smart phones and devices. If a mobile device is lost or stolen, it can be wiped clean remotely.
3) Data Loss Prevention: A system of checks and policies that prevent sensitive information from being emailed from the network.
4) Email Encryption: Saving the best for last: Emails are automatically encrypted so that no one but the sender and receiver can read them.
What is the difference between Microsoft 365 and Office 365?
Let it be said that technology names can easily become confusing – especially when names are reused for a different application. Microsoft is certainly not alone in enveloping existing apps like office into their new platform with duplicitous names. Google's G Suite had an application called 'Workspace', so when they upgraded and rebranded G Suite as 'Google Workspace' people started scratching their heads.
The fact that Microsoft released Microsoft 365 in 2017 – when people were still buying Office 365 (and still are) as a standalone created a bit of this confusion. It's still unclear if this was a part of Microsoft's strategic product planning.
Let's take a look at the two products:
Office 365
Based in the cloud, Office 365 is a bundle of business productivity apps that includes the old standards like Outlook, Word, Excel, Publisher, and PowerPoint, but other apps are available under different plans. The full gamut is available with their Enterprise E5 plan – all of the above, plus:
Sharepoint
Teams
Skype for Business
Exchange
Kaizala Pro
Stream
Whiteboard
Forms
Power Apps Development
Viva/Viva Connections
OneDrive
Yammer
Planner
Groups
Bookings
Power Automate
Delve
Stream
Graph
Compliance Capabilities
And of course: Microsoft Azure Information Protection which allows you to manage and control data security based on the sensitivity levels you create. These controls provide IT Support the logging and reporting tools to monitor and analyze data and its usage.
Microsoft 365
Since Microsoft 365 includes Office 365, it will include all the basics listed above plus whatever applications are included at the subscription level you choose. Beyond that, it includes the Windows 10 Enterprise Operating System (OS), Enterprise Mobility + Security (EMS) and Machine Learning. The basic plan offers the same Threat Protections as Office, but the next two tiers offer 5 enhanced levels of Cybersecurity.
Frequently Asked Questions
Q: Will there be a Microsoft Office 2021?
A:  Yes. It is already out as a standalone purchase. Unlike Office and Microsoft 365, which are subscription based, your one-time purchase of Office 2021 includes the most commonly used favorite apps like Word, Excel, PowerPoint, OneNote, and Teams for both Mac and PC.
Q: How do I update my Office 365 to latest version?
A: As Office 365 is no longer available as a standalone product, he only recourse is to upgrade to Microsoft 365 which includes Office 365 – or to switch to the streamlined Office 2021.
Q: Is Office 365 per user or per device?
A:  Microsoft subscriptions are on a per-user licensing basis. Each user can install and access Office 365 or Microsoft 365 on five separate devices: PC/Mac, laptop, tablet, smartphone etc.
Q: Does Office 365 include support?
A: Since fully supported Office 365 is now offered as part of Microsoft 365 rather than by itself – some earlier standalone (purchased) versions may or may not still have Microsoft tech support. It's best to go straight to Microsoft for the list and specifics.
Find out how this will benefit your business
As a longtime Microsoft Partner, IT Support LA is very well versed in all things Microsoft, including helping clients determine the right M365 Plan will fit your business. For a FREE no-strings consultation, please either fill out the form on this page or call us at:
818-805-0909