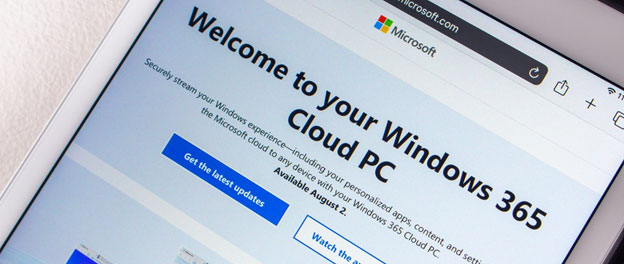 Microsoft Windows 365
First, let's get past any 'name confusion'. The tech giants create this confusion by giving different things similar names, as with the new Google Workspace which evolved from G Suite, which had an app called 'Workspace', which is not the same as Google Workspace (of course). Same with Microsoft which includes Office 365 in the new Microsoft 365, but they are certainly not synonymous.
In sorting out The Name Game, one of the first questions people ask is:
Is Windows 365 the same as Windows 11?

No. First and foremost, Windows 365 is a cloud computer. It is a piece of hardware that is engineered specifically to easily control cloud operations. In the way Microsoft 365 places the entirety of the users' office and business applications in the cloud, Windows 365 is the Operating System for the cloud and it is your fully integrated cloud terminal.
Windows 365 is not another local version of Windows like the newly released Operating System (OS) Windows 11, which is now included in the subscription for Windows 365.
In short – the cloud 'drive train' stacks up this way:
Microsoft Azure is the cloud.
Microsoft 365 is the suite of apps you use to do business in the cloud.
Windows 365 makes it all work.
These three components create a VDI (Virtual Desktop Infrastructure) that allows employees to work as usual, but relieves many of the costs and headaches associated with physical local networks.
This is not to say that your HP or Dell PC with Windows 10 or 11 can't run M365 in the cloud – they certainly can, but in the cloud you don't need that kind of expensive hardware anymore.
The workstations in the hardware-based local 'legacy' network act as a mini factory and storage facility. They need the disk space, drive capacity, RAM (Random Access Memory) and a powerful CPU (Central Processing Unit) to run everything at the ground level. While these elements don't go away with a cloud PC, they need only be minimal compared to the old-style hardware.
What hardware do you need for cloud computing?
All you really need is a terminal to access the applications you use – which are no longer taking up disk space and RAM to house and run them. You still need disk capacity and RAM just to run things at a very basic, local level, but your PC no longer has to do the heavy lifting. RAM is necessary because it allows you to keep multiple windows and tabs on your browser as well as multiple open apps without getting bogged down.
This is significant, because every three to five years you will not have to foot the massive capital expense of upgrading and buying new hardware. Even if you stagger hardware replacement so it doesn't hit all at once – it's a lot of money. It's not that your workstations wear out (although they do – in maybe five to eight years), each new version of the programs you use demand more computing power to run. The tipping point comes when your computer stalls or freezes at the demands made by these larger programs.
Ask any reputable and experienced member of the IT Support Los Angeles Community what it's like to get their clients to pony up that kind of money and you will be met with groans. If the IT Services firm offers HaaS (hardware as a service), it's not a problem – hardware is routinely rotated out to keep the network humming along. IT Support LA offers a unique HaaS program, wherein it's not a lease arrangement where the Managed IT Services firm retains ownership of the hardware. With IT Support LA, from the moment the hardware is installed, the client owns it. Still, many companies opt for plans which exclude hardware.
The dilemma rests with the fact that aging, underpowered hardware causes many more issues for IT support to resolve, and the customer needs to be made aware that this is not the fault of the IT services provider – it's a bit of a tightrope walk.
Once you have Microsoft 365 combined with Windows 365, the Microsoft Azure cloud supplies the power to run programs, not your PC. Your PC only needs enough power to get to and maneuver online and in the cloud.
This is a quantum leap from the time when mostly huge companies could make good use of the Microsoft Azure cloud platform. In its initial form, Azure was very complex to navigate and required no small amount of special training for the end-user to be able to use it.
Effectively, the 'think tank' at Microsoft seems to have rethought the Azure situation. Why train all those end-user IT Support people and hope they get it right? Microsoft has the technicians and know-how to run it, so they decided to create and support a virtual desktop environment for which a business pays a monthly subscription and has immediate access to everything they need on Azure without having to become experts.
Summary
Windows 365 is both the terminal and Operating System connecting you to everything you need to conduct business. No more legacy local network. No more expensive hardware that needs to be updated every few years. You enter your network from anywhere, on any connected communications device and your business goes where you go.
Frequently Asked Questions
Q: What is included with Windows 365?
A:  As for the Windows 365 hardware itself, there are a range of options, detailed in Microsoft's Plans & Pricing.
Q: What does a virtual desktop do?
A:A virtual desktop allows for seamless and secure use of the company network from any connected device from any location anywhere, provided there is internet access. To end-users, there will be no apparent difference short of a new icon on the monitor.
Q: Do I have to buy Windows 365 every year?
A:  You don't buy Windows 365 - it is a subscription service. You can opt for the higher month to month fee, but price breaks make an annual (or longer) agreement much more attractive.
Q: What is the difference between VDI and Remote Desktop?
A: With RDS (Remote Desktop Services), multiple users have access to a single environment, which is not dedicated to a particular user. It works with physical networks.
In a traditional VDI environment each user either accesses their own centrally hosted physical PC or VM or they can access a shared VM. With windows 365, the user accesses the cloud, not the RDS style physical network.
Find out how this will benefit your business
As a longtime Microsoft Partner, IT Support LA is very well versed in all things Microsoft, including helping clients determine the right M365 Plan will fit your business. For a FREE no-strings consultation, please either fill out the form on this page or call us at:
818-805-0909