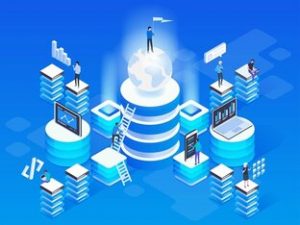 The marriage between a company's core business and their IT infrastructure and operations continues to grow in importance. It is not enough to simply manage and sell your product or service. The reliability your network is the key facilitator of your enterprise.
It's like that old song, 'Love and Marriage':
"This, I tell you, brother:
"You can't have one without the other."
There are several models for handling your IT needs:
In-house person or department
3rd party, offsite 'Time & Materials' (what we call 'Break & Fix' (B&F).
Managed Services Providers (MSPs)
While many In-House IT Departments utilize MSPs as auxiliary IT, performing specialized tasks and 'back end' IT (security, backups, licensing etc.), the market for the antiquated Break & Fix 'IT Guy' shrinks every year, as technology becomes more and more a part of any basic business operation.
For complete 3rd Party IT, it is the MSP that companies are turning to in droves.
What constitutes necessary IT services?
The key elements
Hardware: A physical, touchable device such as a desktop/workstation, monitor, mouse, keyboard, cabling, WiFi, and the servers. Printers and scanners are peripheral.
Software: What makes the system run: Operating Systems, such as Windows, and applications like a CRM or Quickbooks, plus any specific software necessary for your type of business.
Network Infrastructure
A systems' Infrastructure designates how all the components are connected and work together, including the internet and peripheral devices such as printers, scanners, VoIP phones, security camera systems, and any connected industrial machinery. Anything that you operate or monitor using computers.
When it comes to the overall network, The IT provider's main goals are twofold:
1) Keep everything running.
2) Keep the network safe from any internal or external threats.
IT accomplishes both through proactive monitoring and maintenance, the use of Firewalls, Anti-Virus (AV) and applications like spam filtering for emails.
Proactive monitoring gives an ongoing status report on the network, but also spots anomalies in traffic that may indicate an intrusion. When things are running, yet differently, that is a red flag that requires closer examination.
Network Policies and Procedures (P&P) need to be created and followed without exception. The IT provider will usually set these in motion, with the input of the business insofar as the P&P affects their users. The P&P will include access procedures, such as Multi-Factor Authentication (MFA) and any required restrictions.
BYOD and Mobile Computing.
This year, the remote workforce has propagated exponentially with the COVID-19 pandemic, but it is typically not a new situation. Telecommuting has long been in effect, as well as salespeople who work on the 'Bring Your Own Device (BYOD)' model, using their smart phones and tablets to communicate and interact with the office network.
Extra steps must be taken to maintain the security of these remote connections. Mobile Device Management (MDM) ensures that all in-office P&P are followed and enacted on the mobile devices as well.
Cloud Computing
It makes sense that more companies are moving to the cloud – not just for email hosting and offsite data backups, but for the entirety of their applications.
IT Services, especially MSPs, either provide cloud access directly, or help businesses manage their cloud services in two ways:
1) They help with configuring and managing the cloud system. They will help with the complex work of setting up cloud hosted applications and data as well as resolve errors and downtime.
2) They will keep your cloud systems secure from threats, such as intrusions. The idea — as with all other types of managed IT services — is to free you to focus on your core work and not get distracted by dealing with the day-to-day upkeep of your cloud assets.
Cyber Security
The last, but by no means the least important, Cyber Security applies to every aspect of your IT infrastructure. This is far and away the most complex and constantly evolving field. As Cyber Criminals, especially purveyors of Ransomware, continuously modify each new 'strain' of this malware, it takes the true proactiveness of a Top-Notch MSP to stay ahead of the game, as the crooks shift the goal posts every day.
IT service providers, MSPs in particular, will keep abreast as these malwares evolve and invest in the necessary technologies and skills to keep themselves and their clients secure. In turn, you don't need to distract your team with keeping up with these issues; instead, you just have to focus on your core work.
Finally, in addition to support in managing your IT systems, IT service providers can also help with defining and implementing your future IT projects.
At IT Support LA, our consultants will bring their proven experience to the table and help with the creation of a road map for the future of your network infrastructure, ensuring that it meets your future needs. We will help you save in terms of procurement and maintenance costs while also ensuring that all of your requirements are met.
About IT Support LA
We embody each and every aspect of a Top-Notch MSP. Our methodologies are iron-clad, yet adaptive to your environment. We are entering our 19th year serving the Greater Los Angeles and Ventura County areas. We have continuously scaled our growth to ensure no 'growing pains', and our technicians are never finished with 'school' – the IT landscape, as well as the nature of Cyber Crime changes constantly, and we maintain that if those who are not a step ahead are far behind.
It is just this philosophy that has made us an award-winning company:
2 Years awarded Best IT by the Small Business Expo
Awarded 2nd best company of any type in the US by the Small Business Expo
Awarded Best IT in California by Channel Futures
3 years listed as one of the Top 501 MSPs in the World by Channel Futures