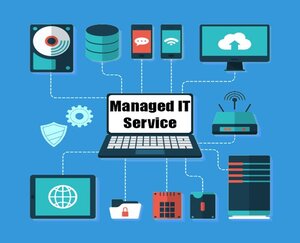 A Managed Service Provider (MSP) is an Information Technology company that manages all aspects of a client's IT infrastructure, usually including end-user systems The 'earmark' of a true MSP is that the bulk of the service is provided through 24/7 remote monitoring, maintenance and repair (Help Desk), while on-site visits by field technicians are provided as well. Both remote and onsite services generally operate under a specific 'guaranteed' time frame for response.
The model for the MSP arrangement is typically on a monthly subscription basis, supported by a detailed Service Level Agreement (SLA) which itemizes the entire scope of the services provided. A true MSP operates on a proactive basis, taking a more 'holistic' approach to the network infrastructure as a whole organism, as well as each individual device on the network: workstations, servers, printers, scanners and other devices which are unique or proprietary to the business.
With the prevalence of the MSP model in today's IT landscape, it has become a 'catch phrase' for most IT providers, even when they do not meet the criteria for a bona fide MSP. It is important for any potential client to read over the SLA thoroughly to be certain what they are getting for their money. For example, if remote monitoring and repair is not included, the offering is not that of a true MSP.
Today, many firms interchange the term "Cloud Service Provider" with "Managed Service Provider", and while not necessarily mutually exclusive, they do not denote the exact same scope of services. Many MSP clients choose not to have applications or data backups hosted in the cloud.
It was the emergence of the Internet that allowed for the debut of offsite Managed Services, which began to arrive on the IT scene in the 1990s. The early practitioners of the developing web-based service model were Application Service Providers (ASPs), which offered remote application hosting services. As the technology advanced, MSPs, providing remote support for customers' IT infrastructure, and Cloud Computing companies began to appear.
Today more MSPs than ever have added services to differentiate themselves from their competition, bundling technologies such as Voice over Internet Protocol (VoIP) telephone systems to their offerings menu.
True top-notch MSPs will continue to anticipate the future of technology, expanding their services in kind.
About IT Support LA
We embody each and every aspect of the true, top-notch MSP. Our methodologies are iron-clad, yet adaptive to your environment. We are entering our 19th year serving the Greater Los Angeles and Ventura County areas. We have continuously scaled our growth to ensure no 'growing pains', and our technicians are never finished with 'school' – the IT landscape, as well as the nature of Cyber Crime changes constantly, and we maintain that if those who are not a step ahead are far behind.
It is just this philosophy that has made our company award-winning:
2 Years awarded Best IT by the Small Business Expo
Awarded 2nd best company of any type in the US by the Small Business Expo
Awarded Best IT in California by Channel Futures
3 years listed as one of the Top 501 MSPs in the World by Channel Futures