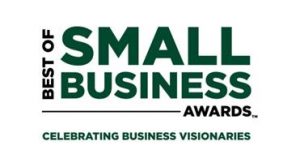 April 4, 2019: The voters for The Small Business Expo's 2018 'Best of Small Business Awards' chose IT Support LA by a margin of 30% over all of the other competing MSPs (Managed Services Providers) in the entire nation for this prestigious 'Best IT' award.
Yuri Aberfeld, the CEO of IT Support LA, said of the award, "We owe this award to many people, not the least of which are our own clients, who have put their trust in us over the years to be an excellent steward of their office Information Systems. As we constantly seek to improve our service, this award helps to reassure us that we are on the right path."
Since its inception in 2008, The Small Business Expo has grown in both recognition and prestige by spotlighting the best of many types of enterprises in the United States. They themselves have been recognized four years in a row by Inc 5000 as one of the fastest growing companies in America. Its stature in the business community has grown in concert with the recognition and respect its annual awards have garnered in recognizing Small Businesses across the country.
About IT Support LA:
IT Support LA has provided excellence in service to the Greater Los Angeles area and Ventura County for the past 16 years. With 'real' proactive 24/7 monitoring with unlimited onsite visits, we take all IT cares away from our customers, allowing them to focus on the core nature of their business. Our clients' success is our success.
Our all-inclusive Managed Services system goes above and beyond that of a typical MSP, into the realm of Technology Concierge, handling all manner of communication for our clients, from IT service to Vendor Management.
Contact David Mercy
818-797-5302
david@itsupportla.com