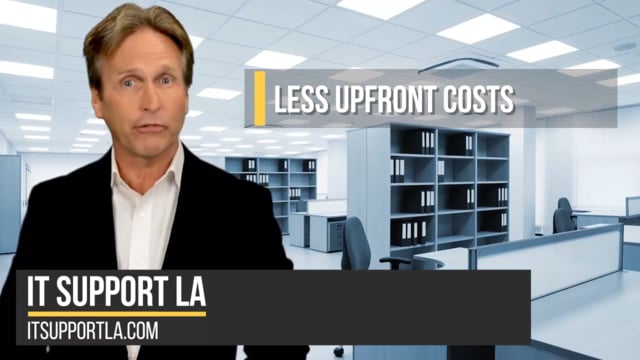 As a small or medium sized business, the choices in technology for your company can easily become overwhelming and confusing, especially when your old hardware has become obsolete. Should you choose a new hardware and software licensing solution? Or is a cloud solution right for your business? Let's take a look at a few reasons why a cloud solution may be an option for you, coming up next.
Cloud solutions have become a much more accepted and viable alternative to expensive hardware options. Here are three benefits for moving your business technology to the cloud.
Less upfront cost – The cost of purchasing or upgrading equipment can be a huge surprise to business owners and can often hinder progress or potential technology advances. Cloud solutions often eliminate many of these initial cost concerns by taking away hardware investments and only require monthly licensing fees. This makes it much easier to afford for the average business.
Anywhere, anytime access – Since most cloud solutions are accessed through a web connection, it typically means you can access your programs and data from anywhere you have internet access. This can be very appealing as work can be performed from virtually anywhere. It also means it's much easier to connect multiple offices and share data between offices and employees.
Security – On-premise hardware can come with a number of security concerns. First, physical security can be difficult to manage. Access to the hardware is often lackluster and can lead to internal breaches. Second, physical theft is a real threat as small businesses are often targeted for burglary. Cloud solutions are typically housed in large, secure data centers, with limited access and security processes.
For many companies, a cloud solution is a great alternative to purchasing or upgrading traditional hardware. If you are looking to update your current hardware, a cloud solution may save you tens of thousands. If you have questions about the cloud or if you need any help with the technology in your business, give our team a call.
IT Support LA
818-805-0909
itsupportla.com