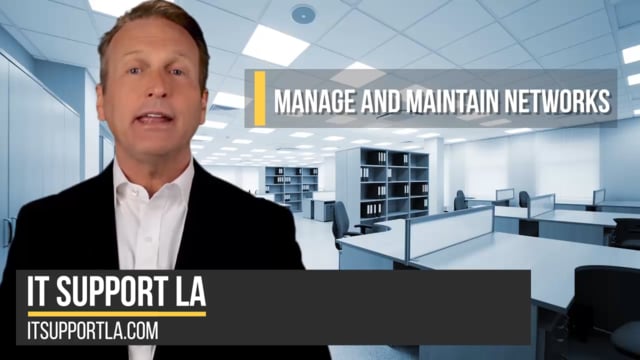 As a business owner, you are always looking for new ways to improve the performance of your business and staff. One of the ways to do this is to outsource your Information Technology needs to a Managed Service Provider. If you're not sure what an MSP is or how it can help take your company to the next level, we'll give you a quick overview of what they can do for you, coming up next.
A Managed Service Provider is a company that specializes in managing your business technology needs. Rather than wait for your networks and computers to have problems an MSP monitors and maintains your technology to improve company performance. Here are the three biggest benefits MSPs offer to the companies that use them:
Number 1 - Manage and Maintain Networks – Keeping your network running smoothly can be a daunting challenge even under the best of circumstances, let alone when you've got to roll out a new piece of software or change to the network structure. An MSP can coordinate and handle the details for you, allowing you to focus on the more important aspects of your company.
Number 2 - Improves Productivity and Efficiencies – By outsourcing the IT functions required to keep your company running smoothly, it frees up your staff to focus on more important, strategic issues, ultimately allowing every employee on your payroll to be more productive, effective and efficient.
Number 3 - Provides A Predictable IT Budget – Most small to medium sized businesses struggle to effectively manage their infrastructure because of the high and unpredictable cost of hiring a dedicated IT team internally. Not only does an MSP avoid this issue by offering a cost-effective solution, but a contract with an MSP gives you an entirely predictable budget. Even better, you can scale the level of service you get from the company seamlessly as your business grows and expands.
The right MSP can help take your business to the next level, giving you a powerful strategic advantage over your competition. If you've been looking for a simple way to enhance the productivity of your firm and improve your bottom line, this could be the solution you've been looking for. If you'd like to know more about Managed Services, give our team a call.
IT Support LA
818-805-0909
itsupportla.com