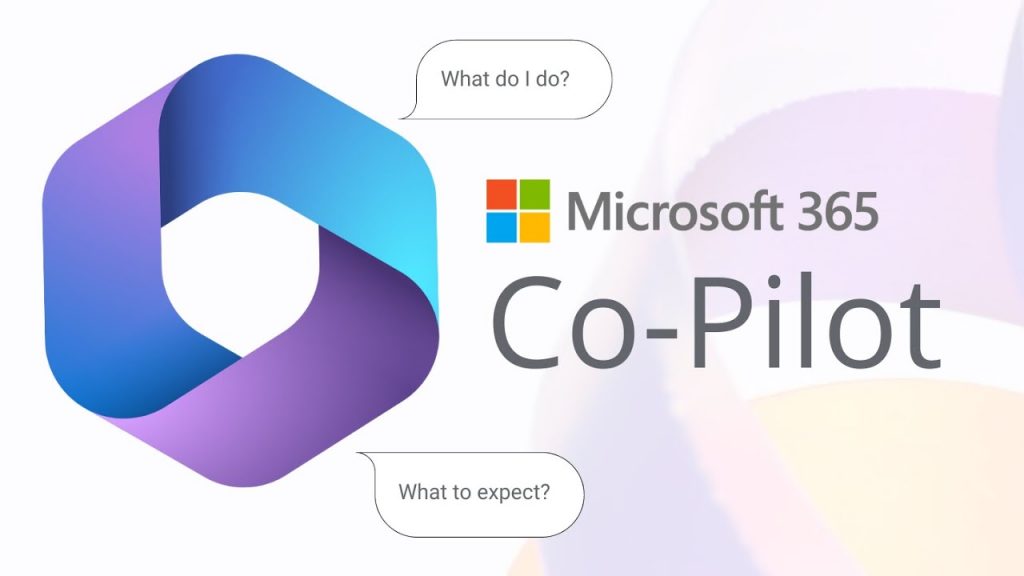 Everywhere you look the chatter is about AI (Artificial Intelligence), which is rapidly enhancing all manner of cloud computing. Tools like ChatGPT and Bard have been making big waves. When a technology surges to the forefront, app developers race to introduce the next level of features to do part of your work for you, like writing emails or making follow-up checklists based on contact data.
This isn't just about automating processes. People are using these AI-based applications to write business correspondence, create websites, and write scripts (part of what the current Writer's Guild strike is about). AI is also quickly transforming the everyday office workflow.
Here at IT Support LA, we use AI and automation for many tasks. We suggest you check with your It Services provider – whether in-house IT Support or outsourced Managed IT Services for implementation when Copilot becomes available.
Microsoft is one of the biggest players in the office application field. It's at the forefront of introducing transformative technology. The company is about to transform Microsoft 365 in a huge way with its new Copilot tool.
Although not yet available, Microsoft 365 Copilot is a new tool designed to help users get the most out of their Microsoft 365 apps. This revolutionary tool is an intelligent, personalized assistant. It's designed to help users navigate and use M365 more efficiently. Keep an eye out for it.
In this article, we'll take a closer look at Microsoft 365 Copilot. And tell you the key ways it's going to improve M365 apps and your business workflows.
What is the meaning of Microsoft 365 Copilot?
In a nutshell, Microsoft 365 Copilot is an AI-powered assistant that can help users with their day-to-day tasks in M365 apps. It's like having a personal assistant right in your Office apps. Users can ask it questions, get help with tasks, and receive personalized recommendations. Copilot responds leveraging the context of their usage patterns.
Microsoft 365 Copilot works across all M365 apps. This includes:
Word
Excel
PowerPoint
Outlook
Teams
and more
Whatever the task, Microsoft 365 Copilot is at your beck and call for assistance, whether you're working on a document, scheduling a meeting, or collaborating with a team.
How does MS Copilot work?
Microsoft 365 Copilot uses AI and machine learning to understand users' needs and provide informed, personalized help. It analyses data from users' interactions with M365 apps to learn a user's usage patterns and offer recommendations based on their preferences.
For example, say you frequently use certain features in Excel. Microsoft 365 Copilot will learn this. It will offer suggestions when it detects that you're working on a similar task.
Suppose you're working on a presentation in PowerPoint and struggling with design issues. Microsoft 365 Copilot can offer design suggestions based on your company's brand guidelines.
Copilot can also help users with common tasks like scheduling meetings and managing emails. All a user has to do is simply ask Copilot for help. They can ask it to schedule a meeting or find an email from a specific person, and Copilot will take care of the rest.
What is the impact of Microsoft Copilot?
The impact must be gauged going forward – as more users become aware of what it can do, but it would appear so far to have a huge, positive impact. Copilot is important simply because it can help users be more productive and efficient. By providing personalized support, the tool can save users time and reduce frustration.
Let's say you're working on a report in Word and you're struggling to format a table. Instead of trying to figure it out on your own or spending time searching for a solution online, just ask Copilot for help, because it can offer suggestions and even walk you through the process. More time saved.
Microsoft 365 Copilot is also important because it can help users get more out of their M365 apps. Microsoft's apps tend to be extremely 'feature-rich', so many users may not be aware of all their features and capabilities. With Copilot, they can discover new ways to work more efficiently and effectively.
Now let's say that you need to give your team an update on a marketing strategy. You won't need to dig out emails, chat threads, or meeting notes. Instead, you can ask Copilot to "tell my team how we updated the marketing strategy." The app will then search all those places for you and craft an update for your team.
Need a first draft of a meeting agenda or presentation? Just ask Copilot. It can access existing M365 documents and content and craft an initial draft for you.
What are the benefits of M365 Copilot?
Getting Help that is Personalized
We have all been frustrated by using the 'help' feature on apps – you get generic answers based only on keywords. Copilot provides personalized help based on your usage patterns and preferences. This means that you get knowledgeable and informed help when you need it, without having to search for solutions on your own.
Saves Time
This is fundamentally what all technology is supposed to be about: making things easier and saving time. Copilot can help users save time in many ways, from scheduling meetings to formatting documents. It can take on many information gathering tasks, like summarizing meeting notes. This saves users considerable time, especially for tedious manual tasks such as searching for information.
Knowledge workers spend an average of 2.5 hours per day searching for information.
Reduces Frustration
Copilot can undoubtedly help reduce frustration by providing solutions when users are stuck on a task. The tool can also help users struggling with an Excel chart or table. Instead of having to figure out how to generate it, they can simply give a command to Copilot to do it for them: "Et, Voila!".
Improved Productivity
Copilot handles tasks that go beyond what business apps have historically done. For example, you can use it in PowerPoint to create a presentation for you. Use a command such as, "Create a six-slide presentation based on (this) document." You can also tell it to find appropriate Microsoft stock photos and insert them.
The sky is the limit right now for how much this tool is going to impact office productivity, but the impact will most certainly be immense.
Frequently Asked Questions
Q: Is Microsoft Copilot available for use now?
A: As of September 1, 2023, Microsoft hasn't announced a release date yet. It is currently testing Copilot with a limited number of users. You will most likely see it coming out sometime soon.
The only Microsoft "Copilot" that is currently generally available is GitHub Copilot. Microsoft sells GitHub Copilot, its developer-focused AI pair-programming technology, for US$10 per user per month (or US$100 per user per year) for individuals.
Q: Is Copilot free with Microsoft 365?
A: Microsoft 365 Copilot will be available for commercial customers for $30 per user per month for Microsoft 365 E3, E5, Business Standard and Business Premium customers when broadly available.
Q: Can I get Microsoft copilot for free?
A:  As stated in the previous FAQ, Copilot is not free, nor is there a free scaled-down version, but Microsoft Sales Copilot offers a 30-day free trial. As an administrator, you can get a license for 25 users. After a quick sign-up, you'll have access to many of the app's key features. Try it for free and then survey your staff on the results they've enjoyed. Odds are that it will be worth the money.
Q: What is Google's version of Microsoft Copilot?
A: Google's launch of Duet AI, an advanced generative AI collaborator offers an alternative to Microsoft's Github Copilot, assisting programmers with coding tasks. Duet AI by Google offers similar features to Github Copilot and some additional capabilities.
How secure is your network?
As a reputable member of the IT Support Los Angeles community since 2002, IT Support LA offers a FREE, no-risk network and security assessment. It is a non-intrusive scan that allows us to deliver a comprehensive report that is yours to keep. No strings, and no obligation to ever use our Managed IT Services.
The best defenses are expert Cybersecurity to protect your data from theft, and a top-notch Managed Services Provider to ensure continued reliability and defenses against newly emerging threats.
With our 100% Money Back Guarantee in writing, we offer a risk-free way for prospective clients to try us out. Because we do not require a 'hard' contract, our clients can fire us at any time with 30 days' notice. We have to be good.
Among the Managed IT services we provide:
IT HelpDesk Service
Onsite IT Support
Cybersecurity
Cloud migration and management
Email migration services
Backup and disaster recovery
VoIP phone systems
IT disposition and recycling
Office moves
White label services (IT to IT)
IT Support LA is an award-winning Managed Services Provider (MSP):
o  3 Years awarded Best IT Support by the Small Business Expo
o  Awarded 2nd best company of any type in the US by the Small Business Expo SB100
o  Awarded Best IT Support in California by Channel Futures
o  Winner of Best IT Support in Los Angeles by Channel Futures
o  Listed as one of the world's Top 501 Managed Services Providers by CRN and in the top 250 in the   'Pioneer' listing
o  4 years listed as one of the Top 501 Managed Services Providers in the World by Channel Futures
o  Listed as #21 Managed Services Provider in the World in Channel Futures NextGen 101
o  Globee 2021 Bronze Award winner for Chief Technology Officer of the Year
o  Globee 2022 Gold Award winner for Chief Technology Officer of the Year
o  Named one of 2022's 50 'Best' businesses in California by UpCity
o  Named Best of IT winner by UpCity
o  Winner of Local Excellence Award for 2021, 2022 and 2023 by UpCity
o  Named Best of Cloud Consulting winner by UpCity
o  Certified as Top Managed Services Provider and Cybersecurity Pro by UpCity
o  Named Best IT Services in Los Angeles by Expertise.com.
Improve Your Microsoft 365 Value & Security
Need help with security or setup in Microsoft 365? Give us a call today to talk to one of our cloud app experts. At the same time, take advantage of our FREE network and security assessment. The no-strings report you receive will show you the exact state of your system, and any vulnerabilities present.
818-805-0909