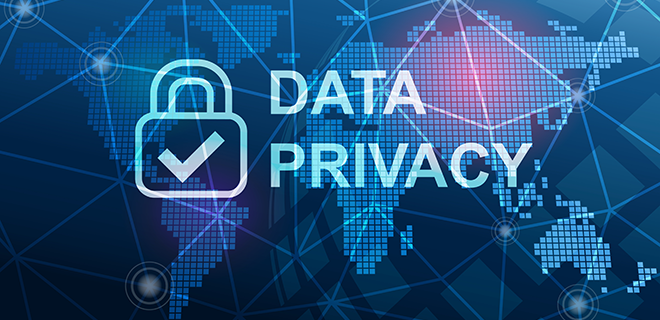 Ever since the dawn of the internet age, data privacy has been a lynchpin of Cybersecurity, and the requirements continue to grow. Look at how much personal information is traveling through computer networks and the internet. It is not merely a good idea to implement the strongest possible protections – it is a mandate.
Different types of businesses have to follow their industry's compliance requirements, be they from HIPAA, PCI, CMMC, FINRA, or any other industry or locality-based privacy rules. In California, all compliances are subject to the CCPA (California Consumer Privacy Act). According to Gartner, by the end of 2024, 75% of the world's population will have their personal data protected due to one or more privacy regulations.
You should have data privacy compliance at the top of your mind whether your organization is large or small. It is all part of overall Cybersecurity. Privacy requirements, fines, and penalties for non-compliance hit organizations of all sizes. The smaller the business, the more devastating these fines can be.
In Europe, between July 2020 and July 2021, GDPR (General Data Protection Regulation) violations rose by 113.5%. The number of associated fines also jumped, by 124.92%. When it comes to US HIPAA violations, each incident can carry a penalty between $100 to $25,000.
Data privacy is a priority and should factor prominently into all your data collection processes. When companies collect, send, or store Personally Identifiable Information (PII) it needs protection. Adequate safeguards MUST be in place.
To stay on top of your privacy compliance obligations, you should also keep up with trends in this area. Next up, we've documented the biggest data privacy trends happening in 2023 that you should know about.
What's Happening in Data Privacy Compliance?
AI Governance
TechRepublic estimates that approximately 40% of privacy compliance technology relies on Artificial Intelligence (AI) to operate. AI has certainly made its way into many of the applications we use on a daily basis. Here at IT Support LA, AI performs many simple tasks.
When text just springs up as a suggestion in MS Word, that's AI predicting what you'll type next. When working on a photograph of a face in Photoshop, you can now click a button and AI will 'turn a frown upside down.' How many of us use the 'fill-in' words that appear when we're texting? That's AI.
It should come as no surprise that AI is running many of the algorithms responsible for keeping data protected. But what happens when there is a problem with the AI?
AI governance is working to address that question. This is a new trend in data privacy because AI has never been as prevalent throughout the data journey as it is now.
Whenever AI is used in the data protection area, it needs to be governed properly to help ensure that automated processes aren't accidentally exposing sensitive data.
Consumer Privacy UX
A trend over the last several months is putting more privacy power into the consumer's hands. Many privacy regulations require that apps and websites provide data transparency - informing people what data they're collecting, how they're collecting it, and what they do with it. People also need an 'out' to get their data back.
These needs have led to consumer privacy UX (User Experience) becoming a "thing." You can think of this as a centralized privacy portal. A place people can access privacy-related settings in various apps. This gives better visibility into how their data is being used.
Increased Scrutiny of Remote Employee Monitoring
There is no argument against the fact that the pandemic has forever changed the logistics of the global workforce. Many organizations are now running completely remote offices or a hybrid a mix of remote and in-office staff. The dramatic increase in employees who work from home has led to data collection changes. Companies are ramping up monitoring of employees working off-site.
But this type of monitoring opens a can of worms when it comes to data privacy. Organizations need to ensure that they aren't encroaching on the rights of their staff. This is most pertinent when putting monitoring in place on employee devices. Employees bristle against 'Big Brother' breathing down their necks.
Approximately 49% of employees who work from home use their personal computers for work. Companies often put endpoint device monitoring in place to ensure they are not gathering or backing up any personal data. The company only has a right to company information.
Data Localization
Bi-partisan members of Congress are lobbying against the social app TikTok, because of data collection and storage. became popular relates to location. As a China-based company, Tik-Toks collected data was originally stored on servers governed by the Chinese government, and if you think CCP access to Tik-Tok data has stopped, then we have New York City bridge we want to sell you. China has extremely different data privacy rules than the US and other countries, and every business in the country must cowtow to the CCP's wishes.
Data localization is going to become more prevalent. Increasingly organizations look at where their cloud data is being stored. Where a server resides governs the privacy rules and regulations that it may fall under. Thus, companies and governments are now asking a question of cloud providers: "Where is my data stored?"  Many want their data to be as close to home as possible – not halfway around the globe.
Privacy-Enhancing Computation (PEC)
Data privacy has always been a concern, but with modern technology it is more complex and crucial than ever. Using privacy-enhancing computation is a way that AI is helping improve Cybersecurity. By using PEC as a built-in component of software and apps, developers provide more value to clients. They address privacy concerns by making data protection more automated.
when shopping for business tools, be sure to look for PEC components in all data analytics.
Frequently Asked Questions
Q: What is data privacy compliance?
A: A company is considered compliant when they meet the legal and regulatory requirements for collecting, storing, and using sensitive data. That is: properly handling sensitive customer data and adherence to data protection laws, regulations, and best practices.
Q: Does CCPA apply to all businesses?
A: As it stands now, the CCPA applies to any for-profit entity that does business in California and collects, shares, or sells the personal data of people residing in California.
Q: What employers are subject to CCPA?
A: While it was once geared exclusively towards consumers, it now covers company employees, officers, directors, contractors, job applicants and B2B contacts.
Q: What are the advantages of privacy-enhancing computation?
A: At its core, Privacy-Enhancing Computation can help businesses meet their legal obligations related to customer data protection, but it also helps businesses get more value from their data by allowing them to share and analyze it without revealing sensitive information about individual customers.
How secure is your network?
As a reputable member of the IT Support Los Angeles community since 2002, IT Support LA offers a FREE, no-risk network and security assessment. It is a non-intrusive scan that allows us to deliver a comprehensive report that is yours to keep. No strings, and no obligation to ever use our Managed IT Services.
The best defense is the best Cybersecurity to protect your data from theft, and a top-notch Managed Services Provider (MSP) to ensure continued reliability and defenses against newly emerging threats.
With our 100% Money Back Guarantee in writing, we offer a risk-free way for prospective clients to try us out. Because we do not require a 'hard' contract, our clients can fire us at any time with 30 days' notice. We have to be good.
Among the Managed IT services we provide:
IT HelpDesk Service
Onsite IT Support
Cybersecurity
Cloud migration and management
Email migration services
Backup and disaster recovery
VoIP phone systems
IT disposition and recycling
Office moves
White label services (IT to IT)
When Was the Last Time You Had a Compliance Check?
How are your data privacy protections? Are you risking a penalty due to lax controls? Give us a call! We can help with a compliance checkup.
IT Support LA an award-winning Managed Services Provider (MSP):
o  3 Years awarded Best IT by the Small Business Expo
o  Awarded 2nd best company of any type in the US by the Small Business Expo SB100
o  Awarded Best IT in California by Channel Futures
o  Winner of Best IT Support in Los Angeles 2021 by Channel Futures
o  Listed as one of the world's Top 501 Managed Services Providers by CRN and in the top 250 in the 'Pioneer' listing
o  4 years listed as one of the Top 501 MSPs in the World by Channel Futures
o  Globee 2021 Bronze Award winner for Chief Technology Officer of the Year
o  Globee 2022 Gold Award winner for Chief Technology Officer of the Year
o  Named one of 2022's 50 'Best' businesses in California by UpCity
o  Named Best of IT winner for 2021 by UpCity
o  Winner of Local Excellence Award for 2021 by UpCity
o  Named Best of Cloud Consulting winner for 2021 by UpCity
o  Certified as Top MSP and Cybersecurity Pro for 2021 by UpCity
o  Named Best IT Support in Los Angeles for 2021 by Expertise.com.
For more information, or to receive your FREE no-risk network and Cybersecurity assessment, just fill out the form on this page or call us at:
818-805-0909