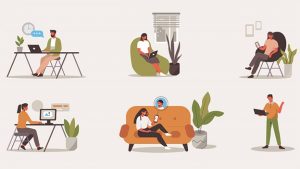 This will not be the first time you've heard how much things have changed since March of 2020, but at this point, it's not about what changed because of the COVID emergency measures. Now it's about what is never going to change back, and the technologies that are at the forefront of the 'new normal' in the office environment.
Many workers will never go back. At this point, only 28% of American workers have returned to the brick and mortar office. A May survey showed that 39% of workers would seek employment elsewhere if their employers insisted on their full-time return.
According to The Wall Street Journal: "Here are two things we can be sure of as people start to return to offices.
First, remote work is here to stay.
And second, it shouldn't look anything like the improvised approach that was hastily thrown together in the face of a global pandemic."
So, how do we make this work on a permanent basis? We are not out of the woods yet. Developing the new permanent hybrid workplace is an ongoing process. Many companies have not yet put forth a policy on returning or staying remote.
In the same vein, commerce in the US has come to rely heavily on once peripheral technologies in order to conduct business. Zoom, or other video-conferencing platforms, are perhaps the most noticeable technologies to keep America working, but there is a tapestry of hybrid work technology that is the key to this new operational modus operandi.
What is hybrid work technology?
Just as HR policies are in an evolutionary state of flux, so are the technologies that empower the new hybrid office. From the Managed IT Services side of the equation, most of it is not 'new'. As a major urban hub, Los Angeles conducts plenty of global business. Reputable members the greater IT Support Los Angeles Community have supported remote connections all over the world for decades. In fact, we at IT Support LA are often called in to assist in-house IT services departments to facilitate such connection set-ups.
Major technologies:
The Cloud
The best foundation for solid, reliable and secure remote working is the cloud. Over the last year, IT support and services firms have encouraged and seen a massive migration to cloud platforms. Many companies used to use the cloud to host their emails and data backups, but it finally became apparent that the best tool for a remote workforce is to put the entire network in the cloud.
VoIP
As the temporary becomes permanent, VoIP phone systems have taken on a new light. When they originally replaced the old analog lines, they were just a new phone. Having installed quite a few of the systems, IT Support LA has held trainings on VoIP features and benefits, but often to people who just wanted the phone. Now it's a different story, with features like multiple end-points (desktop, laptop, smartphone, tablet), WebFax, texting, email, chat groups, instant messaging and more, aiding the ease with which workers collaborate remotely.
Zoom
Zoom has never had more prominence than in the last 15 months, and many workers do not see the need for face-to-face meetings or even travel anymore. The fact that business proceeded as usual reinforces that opinion. While there are others, like Skype, which also offers instant messaging, Zoom is clearly the hands-down industry leader.
Google Workspace - Microsoft 365
Many of these features are available on multiple platforms. The 'rebranding' of Google G Suite to Google Workspace is a great leap forward for any workforce, but particularly for hybrid or remote employees. Being cloud-based, it offers a world of secure options. What sets this platform apart is the User Interface (UI) which allows easy access to most Google Workspace apps within the other apps, rather than opening and closing apps all day.
Microsoft 365 offers many similar features, including Office 365, in the same type of cloud-based platform as Google Workspace and offers a financially backed guarantee of 99.9% uptime. The subscription allows for installation on "up to five PCs or Macs, five tablets, and five mobile devices." They are just now debuting the new cloud PC Windows 365.
Project Management Software
There are a few Project Management programs available, such as Smartsheet, TeamGantt, Trello, and Asana. These are great tools for keeping remote employees on task and on target when you can't see them working.
Human Resources/Payroll Software
There are plenty of tools available to your HR department to ensure that employee hours, pay and benefits are easily and fairly effortlessly kept on track. ADT offers a comprehensive employee dashboard with its payroll services. Remote workers should all be on an internet time clock, have their paychecks direct deposited and monitoring tools for performance should be in place.
Instant Messaging/Chat
Again, an application with many vendors to choose from: Slack, Skype, Google Hangouts, Workplace by Facebook, and Chanty lead the pack, but there are many out there. See which one best fits your particular collaborative needs.
FAQs
What is Hybrid Working?
A true 'Hybrid' model simply allows flexibility for the worker to perform their duties successfully from any location without giving up a real 'connection' to the office.

Is remote work good or bad for employee engagement?
The range of answers is as wide as the range of personalities among American workers. The success or failure depends on the business leadership. Forbes has a great breakdown of the pluses and minuses HERE.
Why do hybrids work?
They work mostly because of the easy interaction with colleagues. While many remote workers live in a lonely bubble at home, a true hybrid model reinforces collaboration and closer contact with co-workers. It is the new 'water cooler'.
What is the one thing you need to make hybrid working more successful?
A solid and reliable foundation. At the start of COVID, much remote working was hastily constructed, but the most successful businesses went about establishing solid policies, processes and communications within a reliable network that kept the workers involved with each other to the greatest extent possible.
Company Culture cannot be overlooked. In many ways it is the heart of your enterprise.