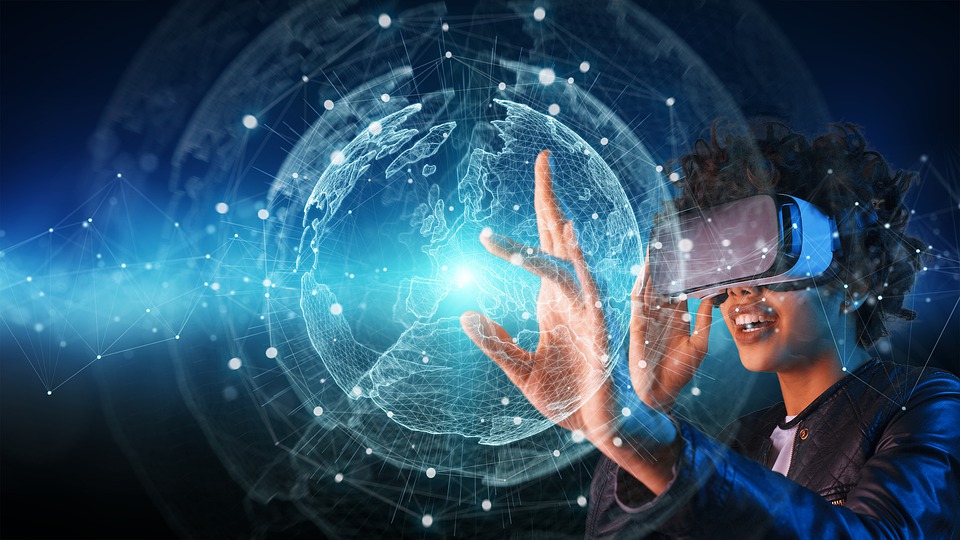 When the word 'metaverse' comes up, most people still think about somebody looking like an idiot, waving their arms around while they interact with whatever's going on inside their high-tech goggles. But now, the metaverse is a new buzzword in the business community What does it actually mean for businesses? What does it mean IT services handling Cybersecurity?
Take a closer look and you will see that it is not merely a tool for social media companies but has positive uses for almost any business.
According Tim Cook, Apple's CEO, the metaverse is coming. He stated that "Life without AR will soon be unthinkable." Whether that's a prediction for the short or the long term, companies need to be ready. Once everybody but you is using it, you will not be considered to be on the cutting edge of technology. For example, with the vast numbers in the new remote workforce, how many companies do NOT have some form of available videoconferencing these days? A heck of a lot less than in 2019.

What is the metaverse and its purpose?
The first step is to establish just what this thing is. Metaverse is a general term, not a specific product – which is why it is not capitalized like a proper name. The metaverse refers to a collective upgrade of the internet to a 3D virtual environment. This would be a world interconnected between various sites. These sites would reflect the immersive games that you see today.
Spiceworks defines it as: "The Metaverse is a spatial computing platform that provides digital experiences as an alternative to or a replica of the real world, along with its key civilizational aspects like social interactions, currency, trade, economy, and property ownership – founded on a bedrock of blockchain technology." Granted, that is a bit much to digest, so let's see what it does and how we can use it.
Some may think that Facebook – now Meta invented the metaverse, but Meta CEO Mark Zuckerberg simply made use of a tool for connecting 3D immersive 'worlds' that has been developed over decades. Online gaming companies have made forays into the metaverse, but their applications are less interconnected.
Arguably, the process of creating the metaverse started in 1838 when Sir Charles Wheatstone introduced and outlined the concept of combining two images – one for each eye – to create a seeming 3D image. But we are not here for a history lesson. Like anything else, technology is picked up and improved by each successive generation.
One of the best representations of the early metaverse was a short-lived software called Adobe Atmosphere which was only on the market between 2001 and 2004. This 3D immersive experience included interconnected online worlds, and also gave people the ability to chat with others. It was certainly ahead of its time, and it shows how the concept of the metaverse has been around for a while.
Advancements in technology such as faster internet connections and quantum leaps in processing power are why the metaverse is getting attention now. It has begun to catch up to the needs of such a world and boasts a delivery method for 3D that works on most PCs.
While we are not fully there yet, the metaverse is picking up steam. Recently, Microsoft announced a partnership with Meta. This partnership will bring Microsoft 365 apps into Facebook's version of the metaverse, enabling collaboration in an entirely new way. Microsoft notes that 50% of Gen Z and millennials expect to do some of their work in the metaverse in the next two years.
How will the metaverse change businesses?
With companies like Microsoft looking at the future of AR/VR, it could be a reality soon. You can expect the metaverse to touch your own company in some way in the next few years -especially if you maintain a large remote workforce. Here's a preview of what it may impact and how things may change.
What is the future of advertising in metaverse?
When the internet was first introduced, companies didn't immediately realize its advertising potential. Now, most companies wouldn't consider operating without a website. It's a necessity for driving leads and converting sales. Would you think twice about doing business with a company that did NOT have a website?
If the metaverse takes off as a new 3D iteration of the internet, it could be just as important. This means exploring metaverse-type advertising in virtual worlds – and it is expected to go beyond digitally placing billboards or advertising on the sides of digital buildings. Also, potentially creating your own VR site or showroom.
What is the metaverse in customer service?
As social media really began to take off, companies realized that customers used it to reach out. Hubspot did a survey which showed that 79% of consumers expect companies to respond to social media messages - and they expect that response within a day.
It has been this consumer expectation that has moved businesses to have a social media presence. They use it for marketing and to answer questions and inquiries from customers.
In tracking this type of customer service trajectory, the metaverse is looking like a logical next step. If people begin hanging out there, they will expect to interact with businesses in that space. Just like they do now with social networks.
As a result, smart companies will stay aware of how customers may be using the metaverse as it grows. Adding a question about metaverse use to a year-end customer survey could be a way to be proactive on this topic.
Can metaverse be used for training?
This seems to be one of the most obvious of all business. Among the touted benefits of the metaverse is its ability to enable more immersive training. This could greatly increase training capabilities for everyone from doctors to forklift operators. You are not just watching somebody do something – you are in that business world virtually doing it.
Imagine being able to replicate a task more closely in a virtual world. A person could safely make mistakes there, growing more proficient before performing those tasks in real life.
Think about the types of training that your employees need and look at ways that a VR world may make the training safer or more efficient. The metaverse may not have what you're looking for right at the moment but give it time. With the pace of technological advancement, it could in a year or two.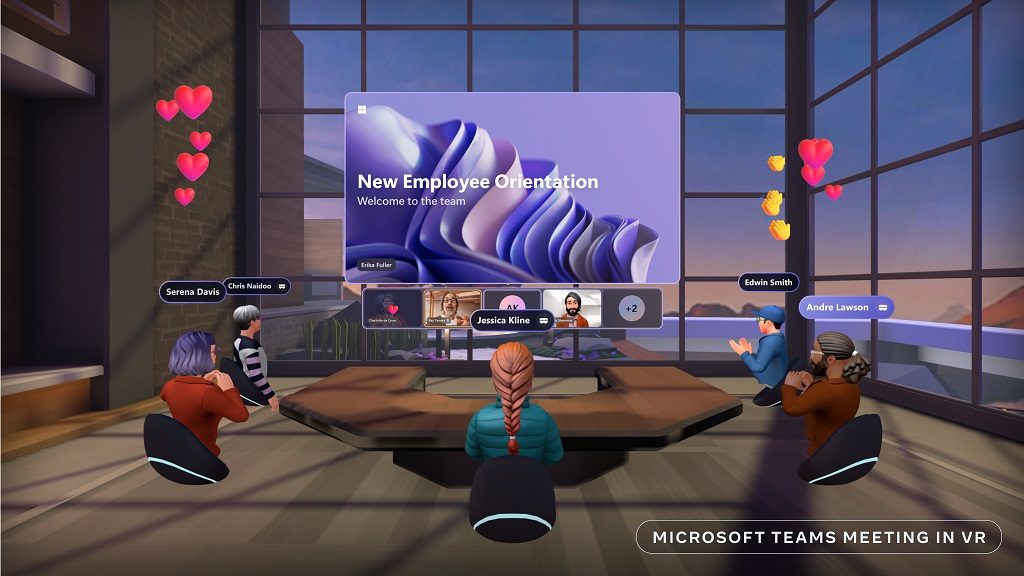 How might the metaverse enable new forms of collaboration and creativity?
With the vast increase in the remote workforce, virtual meetings skyrocketed out of necessity during the pandemic. Now, meeting by Teams or Zoom is commonplace – mixing together employees who work from home with in-office staff. The next generation of online team meetings may end up being in a virtual world.
As noted earlier, Microsoft is already working on bringing its apps into a virtual space. Add a few avatars and an immersive setting. Suddenly, you have a completely different meeting experience.
One more way to enhance remote team collaboration in the metaverse has to do with building design and maintenance. Imagine being able to walk through a 3D recreation of a space before it's built, and then fine-tuning the construction while inside that space.
Frequently Asked Questions
Q: How do I get into the metaverse?
A: You can actually enter the metaverse on a smart phone, although you may have limited features. For a better experience, you should get:
A computer
A Virtual Reality Headset and hand-operated controllers
AR (Augmented Reality Glasses
A Gaming Console – not absolutely necessary, but provides a more immersive experience
Q: Which companies are using the metaverse?
A: The most popular metaverse companies:
Meta (facebook)
Second Life
Apple
Roblox Corporation
Amazon
NVIDIA
Microsoft
Unity Software
Q: How secure is metaverse?
A: Unfortunately, it is far from secure, and keeps IT services providers on their toes when clients use it. One of the main threats is a 'cyber-physical' attack, where hackers take control of a system or an Avatar and wreak havoc. Credential theft is also among the vulnerabilities.
It is highly recommended that companies develop clear guidelines for use, encrypt all communications in the metaverse, and develop Polices & Procedures in close collaboration with their IT services team.
Q: How do you protect privacy in metaverse?
A: By using online security tools such as encryption, VPNs, Antivirus software, and anti-phishing protections – just as a jumping off point.
The metaverse is not yet fully developed – and neither are comprehensive defenses, so this is a dangerous time. Hackers and cyber crooks are looking for vulnerabilities and loopholes to exploit while Cybersecurity experts are looking to plug them.
How secure is your network?
As a reputable member of the IT Support Los Angeles community since 2002, IT Support LA offers a FREE, no-risk network and security assessment. It is a non-intrusive scan that allows us to deliver a comprehensive report that is yours to keep. No strings, and no obligation to ever use our Managed IT Services.
The best defense is the best Cybersecurity to protect your data from theft, and a top-notch Managed Services Provider (MSP) to ensure continued reliability and defenses against newly emerging threats.
With our 100% Money Back Guarantee in writing, we offer a risk-free way for prospective clients to try us out. Because we do not require a 'hard' contract, our clients can fire us at any time with 30 days' notice. We have to be good.
Among the Managed IT services we provide:
IT HelpDesk Service
Onsite IT Support
Cybersecurity
Cloud migration and management
Email migration services
Backup and disaster recovery
VoIP phone systems
IT disposition and recycling
Office moves
White label services (IT to IT)
Is Your Business Ready for the Next Digital Transformation?
What are your digital transformation plans for the next 12 months? The next three years? If you're not sure where to begin, we can help. Contact us today to schedule a technology brainstorming session.
IT Support LA an award-winning Managed Services Provider (MSP):
o  3 Years awarded Best IT by the Small Business Expo
o  Awarded 2nd best company of any type in the US by the Small Business Expo SB100
o  Awarded Best IT in California by Channel Futures
o  Winner of Best IT Support in Los Angeles 2021 by Channel Futures
o  Listed as one of the world's Top 501 Managed Services Providers by CRN and in the top 250 in the   'Pioneer' listing
o  4 years listed as one of the Top 501 MSPs in the World by Channel Futures
o  Globee 2021 Bronze Award winner for Chief Technology Officer of the Year
o  Globee 2022 Gold Award winner for Chief Technology Officer of the Year
o  Named one of 2022's 50 'Best' businesses in California by UpCity
o  Named Best of IT winner for 2021 by UpCity
o  Winner of Local Excellence Award for 2021 by UpCity
o  Named Best of Cloud Consulting winner for 2021 by UpCity
o  Certified as Top MSP and Cybersecurity Pro for 2021 by UpCity
o  Named Best IT Support in Los Angeles for 2021 by Expertise.com.
For more information, or to receive your FREE no-risk network and Cybersecurity assessment, just fill out the form on this page or call us at:
818-805-0909