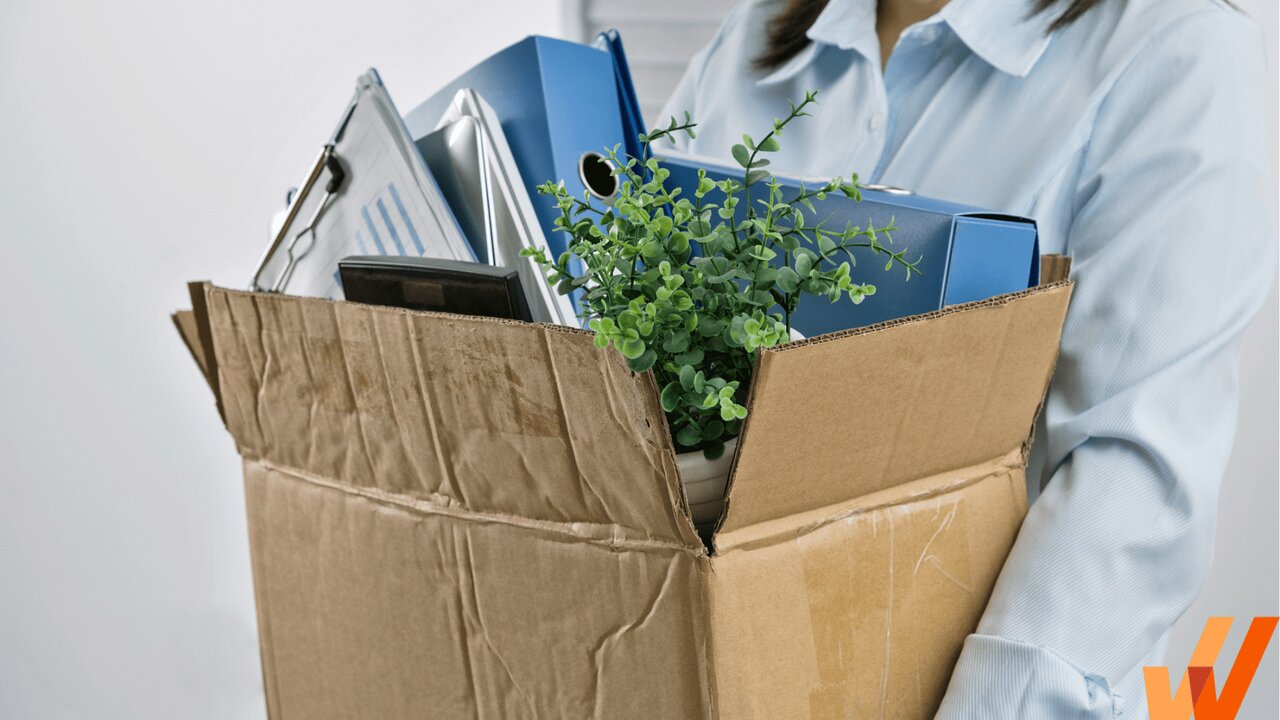 When a couple gets divorced, they usually remove each other from their various shared accounts including financial, credit, and social media. They also prohibit access to each other's computers. The same goes when an employee leaves your company – they should not be free to play in your sandbox anymore.
The modern workplace is rife with digital footprints. As soon as you hire someone, they begin leaving their footprints - from company email addresses, application logins, and even social media like LinkedIn.
As soon as an employee leaves a company, there is a process that immediately needs to begin: The process of 'decoupling' the employee from the company's technology assets. Complete and thorough digital offboarding is vital to Cybersecurity.
Former employees with a grudge – or purely for profit, can steal data, or use their work email to maliciously email all your customers and vendors. Sensitive files left on a former staffer's computer could leak months later.
20% of surveyed businesses have experienced a data breach connected to a former employee.
Digital offboarding entails more than just revoking privileges to company data. This is a critical process to go through to reduce risk concerning any former staff member.
Follow this checklist to help you cover all your bases.
Your Digital Offboarding Checklist
1) Transfer of Knowledge
When a person leaves an organization important corporate knowledge can disappear as well. It's crucial to capture this during the digital offboarding process.
This can take a variety of forms, from something as simple as what social media app someone used for company posts to the best way to enter the sales data into the CRM. Is the departing employee the 'go-to' person for any applications or processes? You do not want to find out that nobody knows how to perform a function after the employee leaves.
The best bet is to have all staff regularly document procedures and workflows. Be sure to do a knowledge download with an employee during the exit interview. This makes the knowledge available if the employee is ever not there to perform those tasks.
Examine Social Media Connections to the Company
Address any social media connections to the former employee. Is their personal Facebook user account an admin for your company's Facebook, Twitter, You Tube, or LinkedIn page? Was posting on those sites one of their duties?
Identify All Apps & Logins the Person Has Been Using for Work
Hopefully, your IT services team or your HR department will have a list of all the apps and website logins that an employee has. Be sure – don't just assume this. Employees often use unauthorized cloud apps to do their work (known as Shadow IT). This is usually done without taking considering the Cybersecurity consequences.
Make sure to keep ongoing track of any apps that employees may use for business activities. You will need to address these. Change the login if you plan to continue using them. Or you may want to close them altogether after exporting company data.
Change Email Login Credentials
This all too often the only thing managers think they need to do after an employee departure – and it is necessary. Changing the employee's email password should be one of the first things you do. This keeps a former employee from getting company information. It also keeps them from emailing as a representative of the company.
Typically, accounts are not closed immediately because emails need to be stored. If the employee was in sales, incoming emails may have considerable value – re-ordering merchandise or accepting a proposal for services so automatic forwarding should be set up.
Change Employee Login Credentials for Cloud Business Apps
Change all other app passwords. Remember that people often access business apps on personal devices. Just because they can't access their work computer any longer, it doesn't mean they can't access their old accounts from other devices. Make sure this is covered.
Changing the passwords locks them out no matter what device they are using. The process can be simplified with a single sign-on solution.
Recover All Company Devices
Be sure to recover any company-owned devices from the departing employee's home.
Do not let this process lag behind. Do it as soon as possible to avoid loss of the equipment. Once people no longer work for a company, they may sell, give away, or even toss the devices in the trash.
Recover Data on Employee Personal Devices
If your company uses a Bring Your Own Device (BYOD) policy, be sure to recover and wipe personal devices of all company data. BYOD saves money, but it adds steps to an efficient and thorough offboarding.
You need to ensure you've captured all company data on those devices. If you don't already have a backup policy in place for this, now is a good time to create one.
Transfer Data Ownership & Close Employee Accounts
Don't keep old employee cloud accounts open indefinitely. Choose a user account to transfer their data to and then close the account. Leaving unused employee accounts open and unmonitored is an invitation to a hacker. With no one monitoring the account, breaches can happen. Completely unnoticed, a criminal could gain access and steal data for months.
Revoke Access by Employee's Devices to Your Apps and Network
Using an endpoint device management system, you can easily revoke device access. Remove the former employee's device from any approved device list in your system.
Change Building Digital Passcodes
Do not overlook the physical access to your building. If you have any digital gate or door passcodes, be sure to change these so the person can no longer gain entry.
Frequently Asked Questions
Q: How do you offboard an employee?
The checklist above refers only to actions taken after an employee leaves or turns in a resignation. How an employee is initially offboarded is through resignation, termination, retirement, or death.
Q: Who is responsible for offboarding?
This is usually a responsibility shared by management and HR. The technical aspect of removing access to the network and all apps is left up to the IT services team.
Q: How can you tell if a high performer is leaving?
There are a few tell-tale signs:
They were recently passed over for a raise or promotion.
They seem less interested in advancement.
They become more quiet and reserved.
Productivity slows down.
They contribute less at company meetings.
They take more time off/sick days.
There are other factors that indicate frustration which could lead to their departure. Increased complaining is often a dead giveaway.
Q: Does BYOD increase risks or drive benefits?
There is little doubt among the IT Services community that BYOD (Bring Your Own Device) increases an organization's security risks, as corporate information can be accessed and stored on personal devices. When a company institutes this policy, they must plug all security holes and the employee MUST accept a certain amount of company and IT support oversight on their device(s).
There are certainly benefits, the greatest of which is that BYOD costs less than buying devices for employees and paying the monthly service fees.
How secure is your network?
As a reputable member of the IT Support Los Angeles community since 2002, IT Support LA offers a FREE, no-risk network and security assessment. It is a non-intrusive scan that allows us to deliver a comprehensive report that is yours to keep. No strings, and no obligation to ever use our Managed IT Services.
The best defense is the best Cybersecurity to protect your data from theft, and a top-notch Managed Services Provider (MSP) to ensure continued reliability and defenses against newly emerging threats.
With our 100% Money Back Guarantee in writing, we offer a risk-free way for prospective clients to try us out. Because we do not require a 'hard' contract, our clients can fire us at any time with 30 days' notice. We have to be good.
Need Help Reducing Offboarding Security Risk?
When you proactively address digital offboarding, the process is easier and less risky. Contact us today for a free consultation to enhance your Cybersecurity.
Among the Managed IT services we provide:
IT HelpDesk Service
Onsite IT Support
Cybersecurity
Cloud migration and management
Email migration services
Backup and disaster recovery
VoIP phone systems
IT disposition and recycling
Office moves
White label services (IT to IT)
IT Support LA an award-winning Managed Services Provider (MSP):
3 Years awarded Best IT by the Small Business Expo
Awarded 2nd best company of any type in the US by the Small Business Expo SB100
Awarded Best IT in California by Channel Futures
Winner of Best IT Support in Los Angeles 2021 by Channel Futures
Listed as one of the world's Top 501 Managed Services Providers by CRN and in the top 250 in the 'Pioneer' listing
4 years listed as one of the Top 501 MSPs in the World by Channel Futures
Globee 2021 Bronze Award winner for Chief Technology Officer of the Year
Globee 2022 Gold Award winner for Chief Technology Officer of the Year
Named one of 2022's 50 'Best' businesses in California by UpCity
Named Best of IT winner for 2021 by UpCity
Winner of Local Excellence Award for 2021 by UpCity
Named Best of Cloud Consulting winner for 2021 by UpCity
Certified as Top MSP and Cybersecurity Pro for 2021 by UpCity
Named Best IT Support in Los Angeles for 2021 by Expertise.com.
For more information, or to receive your FREE no-risk network and Cybersecurity assessment, just fill out the form on this page or call us at: 818-805-0909