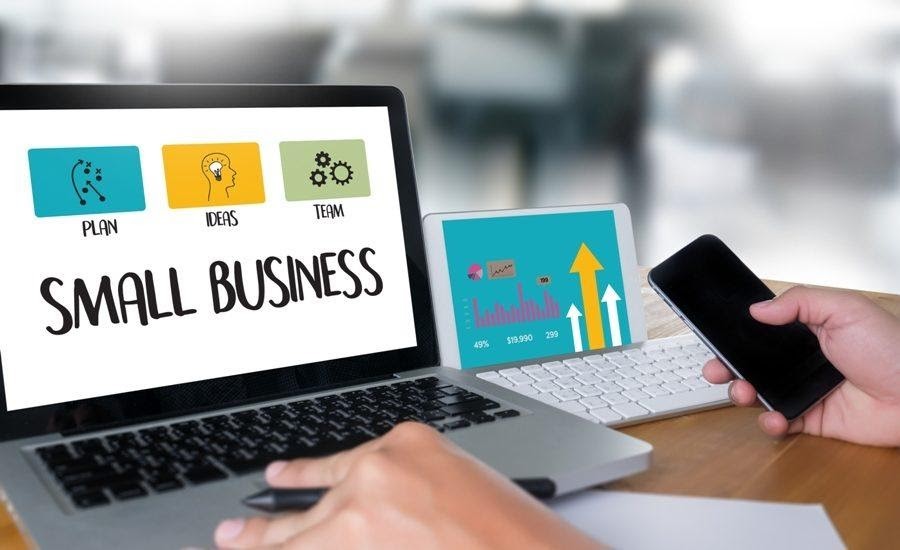 The genesis for starting a small business can come from anywhere. Perhaps you developed a product or came up with a unique service. It caught on and grew and now you are struggling to learn how to manage and direct the growth. At the same time, you're presented with the sometimes-harsh reality of starting and running a business.
What is the harsh reality of starting a business?
Running a small business can be challenging. Starting out, you find yourself working more than you did as an employee – but for less pay, at least at first. From the day you got your business license, the clock is ticking because 60% of businesses fail in the first 3 years, and you have thrown your heart and soul into this enterprise.
Gone is the predictable monthly income from being someone else's employee. Every day it's up to you to keep food on the table, and you never feel you have enough money.
No worries: Advancements in technology have opened a new world of opportunities. Small business owners can use digital tools to streamline operations, improve efficiency, and boost productivity.
The innovations run from 'new age' software to cutting-edge hardware, so you have a lot of tools to choose from. The right technology can give small business owners an edge over the competition.
It can be confusing trying to navigate all the available options yourself. Just buying an app because someone told you it was cool is not necessarily the best strategy. It may be cool, but it may not be the right app for you and your business needs. Process optimization should be your goal.
What are the top two challenges that SMBs experience with cloud use?
1) Managing costs
2) Cybersecurity
Those according to the 2023 State of the Cloud Report, which also found that 47% of SMBs said they lacked resources and expertise.
We can help guide you to the best tech for growth and ROI, but first, let's explore some game-changing technologies. These tools can revolutionize the way you run your small business.
What are game changing technologies examples?
If you seek to automate tasks, enhance communication, or optimize your customer experience, then look at the solutions below. They have the potential to make a significant impact on your business's success.
Use Cloud Computing for Scalability and Flexibility
Businesses everywhere have transformed the way they store, access, and manage their data due to cloud computing. Apps like the top two - Microsoft 365 and Google Workspace, along with Amazon Web Services (AWS) allow small businesses to afford more, including enterprise-class functions formerly enjoyed only by large companies.
Now, small business owners can leverage scalable and flexible computing power with no need for expensive on-premises infrastructure.
Some of the benefits of cloud computing:
Easy collaboration
Seamless data backup and recovery
Improved accessibility
Cloud computing enables you and your team to work from any computers, smartphones and tablets no matter where they are, at any time of day or night. It can now power your entire office, including your phone system, document storage, accounting, customer management, and more. The cloud offers cost-effective solutions for all types of small businesses.
Bear in mind that you are responsible for your own Cybersecurity.
CRM (Customer Relationship Management) Software
How many people do you know that are still keeping their business contacts in a Rolodex? They are still out there, but digital storage has relegated them to the horse and buggy yard. In today's competitive landscape, providing exceptional customer service is paramount, and a good CRM software can help. CRM platforms like Salesforce and HubSpot allow you to centralize customer data, easily track interactions, and manage customer relationships more effectively.
Forget the old spreadsheets - they can only take you so far and they are time-consuming to use and keep up to date. Using these old school methods can result in errors, allowing important balls to be dropped. This is especially true if you are storing data in a non-collaborative environment. That often prevents others on your team from noticing and rectifying the mistake.
Your sales process also gets a big boost with CRM software. It makes personalizing marketing campaigns easy. and provide top-notch sales support. You can gain deeper insights into your customers' preferences and behaviors and it enables you to tailor your offerings to meet their needs. That kind of customization increases customer satisfaction and loyalty.
Seamless Teamwork Through Collaboration Tools
Easy and efficient collaboration is crucial for small businesses. This is especially true when employees are in different offices or working remotely. Collaboration tools like Slack, Microsoft Teams, and Google Workspace facilitate this. They provide real-time communication, file sharing, and project management solutions. Many problems can be handled with instant messaging, and for complex issues, you can hop on a voice call.
These platforms bring teams together, allowing for seamless collaboration, efficient task delegation, and streamlined workflows. The apps have features like chat, video conferencing, and document collaboration – tools that help your team stay connected and productive, no matter where they are.
Online Sales Through E-commerce Platforms
Ever since the days when Amazon started selling books online, e-commerce has expanded at a meteoric rate. It opens new avenues for small businesses to expand their reach, which means more revenue opportunities. Platforms like Shopify, WooCommerce, and BigCommerce provide all-in-one solutions. They make it easy for those who are not tech-savvy to create and manage online stores.
These platforms offer customizable templates, secure payment gateways, and inventory management systems. These features allow small businesses to establish a robust online presence. They can sell products or services directly to customers everywhere.
Informed Decision Making with Data Analytics
Data is the life blood of any business. Leveraging data analytics tools can provide valuable insights for informed decision-making. Platforms like Google Analytics and Microsoft Power BI can help. They enable small business owners to collect, analyze, and visualize data. These business intelligence tools connect data from various sources for a clear picture.
You can identify opportunities by tracking website traffic, customer behavior, and sales trends. This data enables you to optimize marketing strategies and make data-driven decisions. Basically, data insights can help propel your business forward.
Data analytics empowers small business owners, giving them the ability to understand their target audience. It also helps them quickly identify areas for improvement. They can then make smarter business choices.
Frequently Asked Questions
How do you calculate the cost of moving to the cloud?
According to Radixweb, there are 3 steps:
1) Audit Your Present IT Infrastructure Expenses
2) Estimate the cloud infrastructure cost
3) Estimate Cost of Cloud Migration Execution
Radixweb clarifies these 3 steps HERE.
Which cloud service type is best?
It depends on your company's needs. In general, Microsoft wins the day, with Amazon Web Services (AWS) and Google close behind. AWS and Google produce a good-enough product, but both companies' trustworthiness in the marketplace remains a question mark. Google fails to guarantee not to sell your data (a major source of their profits), and both have been known to shut down or censor enterprises for nebulous or political reasons.
Following the introduction of cloud computer Windows 365, coupled with the improvements and rebranding of Office 365 to Microsoft 365, Microsoft has sealed the gaps that other cloud providers are still just patching together. Theirs is a platform that is truly fully integrated and negotiates full cloud operations with ease and the best security.
On C-Sharp Corner, Mahesh Chand provides an intriguing breakdown in his article 'Top 10 Cloud Service Providers (2023)'.
Is the cloud completely secure?
NO. Nothing is ever 100% secure, although the data you store in the cloud can be made more secure than the data you store on your local network or workstation hard drive. The best Cloud services providers use the strongest security measures available, such as:
Security Updates
AI and Auto-patching
Firewalls
Data Backup Redundancies
Third-party security testing
Battling hackers and malware is like a game of 'Whack-a-Mole' – crooks always find new ways to get around yesterday's best security defenses. Stop one threat and another one pops up immediately. The crooks learn from their failures, and they don't sleep on the job – neither should you.
Which CRM system is the best?
As with most apps, it depends on what you need it to do. The two most popular CRMs are Salesforce and Hubspot. Salesforce dominates the global CRM market with a 23.9% market share, which is more than its next four competitors combined. However, there are so many CRMs out there that the top 5 account for less than half of all CRMs used today.
How secure is your network?
As a reputable member of the IT Support Los Angeles community since 2002, IT Support LA offers a FREE, no-risk network and security assessment. It is a non-intrusive scan that allows us to deliver a comprehensive report that is yours to keep. No strings, and no obligation to ever use our Managed IT Services.
The best defenses are expert Cybersecurity to protect your data from theft, and a top-notch Managed Services Provider to ensure continued reliability and defenses against newly emerging threats.
With our 100% Money Back Guarantee in writing, we offer a risk-free way for prospective clients to try us out. Because we do not require a 'hard' contract, our clients can fire us at any time with 30 days' notice. We have to be good.
Among the Managed IT services we provide:
IT HelpDesk Service
Onsite IT Support
Cybersecurity
Cloud migration and management
Email migration services
Backup and disaster recovery
VoIP phone systems
IT disposition and recycling
Office moves
White label services (IT to IT)
IT Support LA is an award-winning Managed Services Provider (MSP):
o  3 Years awarded Best IT Support by the Small Business Expo
o  Awarded 2nd best company of any type in the US by the Small Business Expo SB100
o  Awarded Best IT Support in California by Channel Futures
o  Winner of Best IT Support in Los Angeles by Channel Futures
o  Listed as one of the world's Top 501 Managed Services Providers by CRN and in the top 250 in the   'Pioneer' listing
o  4 years listed as one of the Top 501 Managed Services Providers in the World by Channel Futures
o  Listed as #21 MSP in the World in Channel Futures NextGen 101
o  Globee 2021 Bronze Award winner for Chief Technology Officer of the Year
o  Globee 2022 Gold Award winner for Chief Technology Officer of the Year
o  Named one of 2022's 50 'Best' businesses in California by UpCity
o  Named one of 2023's 50 'Best' businesses in California by UpCity
o  Named Best of IT Services winner by UpCity
o  Winner of Local Excellence Award for 2021, 2022 and 2023 by UpCity
o  Named Best of Cloud Consulting winner by UpCity
o  Certified as Top Managed Services Provider and Cybersecurity Pro by UpCity
o  Named Best IT Services in Los Angeles by Expertise.com.
Ask Us About Our Cloud Support to Boost Your Bottom Line
Incorporating technology into your small business operations can be a game-changer. It enables you to streamline processes, enhance customer experiences, and boost efficiency, but it can be confusing to navigate alone.
We can help.
Give us a call today to schedule a chat about optimizing your cloud efficiency and costs. It's also a great opportunity to take advantage of our FREE network and Cybersecurity risk assessment.
818-805-0909