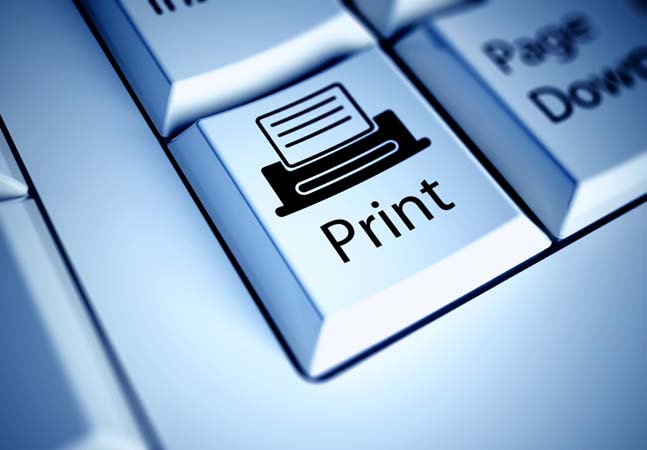 We keep moving towards a 'paperless' office, but even in today's digital workplace, we still need to print. This is true for just about all businesses, but keeping up with your print infrastructure can be a time-consuming task. One printer down can be a stick in your business spokes.
Keeping up with all those printer drivers is another issue. If firmware updates aren't done, vulnerabilities develop. Cybercriminals use every avenue of approach, including printers, and one unprotected printer can cause an entire network malware infection.
The new solution to long-standing problems with printing is called Microsoft Universal Print, which can also streamline your print management.
If you want to improve how you handle document printing and avoid printer problems in general, Universal Print is well worth looking at. Below, we will explore this tool's features and benefits. Discover how you can use it to enhance your printing environment.
What does universal print mean?
In Microsoft's own words: "Universal Print is a Microsoft 365 subscription-based service that organizations use to centralize print management through the Universal Print portal. It's fully integrated with Azure Active Directory and supports single sign-on scenarios."

Microsoft Universal Print leverages the power of Microsoft 365 and Azure. It eliminates the need for complex on-premises print infrastructure. Here are some of the ways that it can improve your document handling.
Simplifies Print Management
With Universal Print, the need for on-premises print servers is eliminated. Print management becomes more simplified and all in one place. You can now centrally manage your printing needs from the cloud.
This ease of use removes the need for complex print server configurations as well as driver installations and print queue management, resulting in significant time and cost savings.
Integrates Seamlessly with Microsoft 365
If your office uses Microsoft 365, you will see how easily Universal Print integrates with it. Working in tandem with Azure Active Directory, it ensures a secure and authenticated printing experience for users.
This integration allows users to print from any device, whether it's a Windows PC, Mac, or mobile device. Gone are the needs for complex setup or driver installations. It simplifies the printing process. It also enhances productivity for employees working across different platforms.
Scalability and Flexibility
With Microsoft Universal Print, you gain scalability and flexibility in your print activities as it supports both modern and legacy printers. This allows your business to leverage your existing printer fleet.
Whether dealing with a local printer or a network printer, connectivity is much easier with Universal Print, as is management through the cloud. Additionally, it offers centralized control and monitoring of printers. This makes it effortless to scale up or down based on your current business needs.
Streamlined Printer Deployment
It is time-consuming to deploy printers across an organization. By providing a centralized portal for printer management, Universal Print simplifies this process.
Administrators can easily add and configure printers and assign them to specific users or groups, as well as manage printer settings from a single interface. This eliminates the need for manual configuration on individual devices, which can be very time-consuming and fraught with issues. It also ensures a consistent printing experience across the organization.
Enhanced Security and Compliance
One of the major benefits of using Microsoft Universal Print is its Cybersecurity capabilities. Print security is a critical concern for businesses, especially in today's threat landscape. Universal Print enhances security by leveraging Azure Active Directory for authentication and access control.
It also supports secure print release, which means that sensitive documents are only printed under certain circumstances. For example, when the authorized user is physically present at the printer.
Moreover, Universal Print integrates with Microsoft Endpoint Manager. This gives organizations even more capabilities. They can enforce security policies and manage print-related settings from a centralized location.
Analytics and Insights
Efficient cost management is vital in every area, and the ability to understand print usage to optimize print infrastructure is not to be overlooked. Microsoft Universal Print provides analytics and insights that help organizations gain visibility. They're able to see print usage patterns, track printing costs, and identify opportunities for optimization.
Businesses can make informed decisions with detailed reporting and analytics. Reporting enables better print resource allocation and the implementation of strategies to reduce printing costs.
Is Microsoft Universal Print for You?
Microsoft Universal Print offers a modern and efficient approach to print management by streamlining the printing experience for organizations. It also eliminates the need for complex on-premises print infrastructure. There are also important benefits from the boost in security.
It's important to understand the full capabilities of Microsoft Universal Print, including the costs versus the benefits. Whether the solution is for you will depend on your printing needs. Extra factors to consider will be how often you print and your number of endpoints.
Frequently Asked Questions
Q: Is Universal Print included in Business Premium?
A: Microsoft Universal Print is part of the following subscriptions: Microsoft 365 Business Premium, Microsoft 365 Enterprise F3, E3, E5, A3, A5, and Windows 10 Enterprise E3, E5, A3, A5.
Q: How do I assign a universal print license?
A: You can assign a license in 10 easy steps:
1: Sign in to Azure AD with an account that has administrator access.
2: Under Manage Azure Active Directory, select View.
3: In the left-hand menu, select Users.
4: Search and select a user.
5: Select Edit properties.
6: On the Settings tab, check the Account enabled check boxes.
7: For the Usage location, select the country of the user, then save the changes. You return to the     selected user's overview page.
8: In the left-hand menu, select Licenses.
9: Select + Assignments.
10: Check the Universal Print check box and select Save.
Q: How does MS Universal Print work?
A:  Microsoft Universal Print is an Azure service which lets Windows machines send print jobs by way of a cloud print service to printers with the Universal Print service installed. If there are printers that don't have the service installed, a Universal Print Connector can be installed on a local print server.
Q: How do I add a universal printer to Windows 10?
A: According to Microsoft:
Select Settings > Devices > Printers & scanners.
Select Add a printer or scanner.
If the desired printer doesn't show up in the list, select Search for printers in my organization or Search Universal Print for printers.
How secure is your network?
As a reputable member of the IT Support Los Angeles community since 2002, IT Support LA offers a FREE, no-risk network and security assessment. It is a non-intrusive scan that allows us to deliver a comprehensive report that is yours to keep. No strings, and no obligation to ever use our Managed IT Services.
The best defenses are expert Cybersecurity to protect your data from theft, and a top-notch Managed Services Provider to ensure continued reliability and defenses against newly emerging threats.
With our 100% Money Back Guarantee in writing, we offer a risk-free way for prospective clients to try us out. Because we do not require a 'hard' contract, our clients can fire us at any time with 30 days' notice. We have to be good.
Among the Managed IT services we provide:
IT HelpDesk Service
Onsite IT Support
Cybersecurity
Cloud migration and management
Email migration services
Backup and disaster recovery
VoIP phone systems
IT disposition and recycling
Office moves
White label services (IT to IT)
IT Support LA is an award-winning Managed Services Provider (MSP):
o  3 Years awarded Best IT Support by the Small Business Expo
o  Awarded 2nd best company of any type in the US by the Small Business Expo SB100
o  Awarded Best IT Support in California by Channel Futures
o  Winner of Best IT Support in Los Angeles by Channel Futures
o  Listed as one of the world's Top 501 MS by CRN and in the top 250 in the   'Pioneer' listing
o  4 years listed as one of the Top 501 MSPs in the World by Channel Futures
o  Listed as #21 MSP in the World in Channel Futures NextGen 101
o  Globee 2021 Bronze Award winner for Chief Technology Officer of the Year
o  Globee 2022 Gold Award winner for Chief Technology Officer of the Year
o  Named one of 2022's 50 'Best' businesses in California by UpCity
o  Named Best of IT winner by UpCity
o  Winner of Local Excellence Award for 2021, 2022 and 2023 by UpCity
o  Named Best of Cloud Consulting winner by UpCity
o  Certified as Top Managed Services Provider and Cybersecurity Pro by UpCity
o  Named Best IT Services in Los Angeles by Expertise.com.
Get the Technology Facts from a Trusted Pro
Zero-click malware continues to evolve and pose severe threats to individuals and organizations. It is crucial to remain vigilant and take proactive steps to combat this menace. Need help with a layered security solution?
Give us a call today to schedule our FREE network and Cybersecurity risk assessment.
818-805-0909