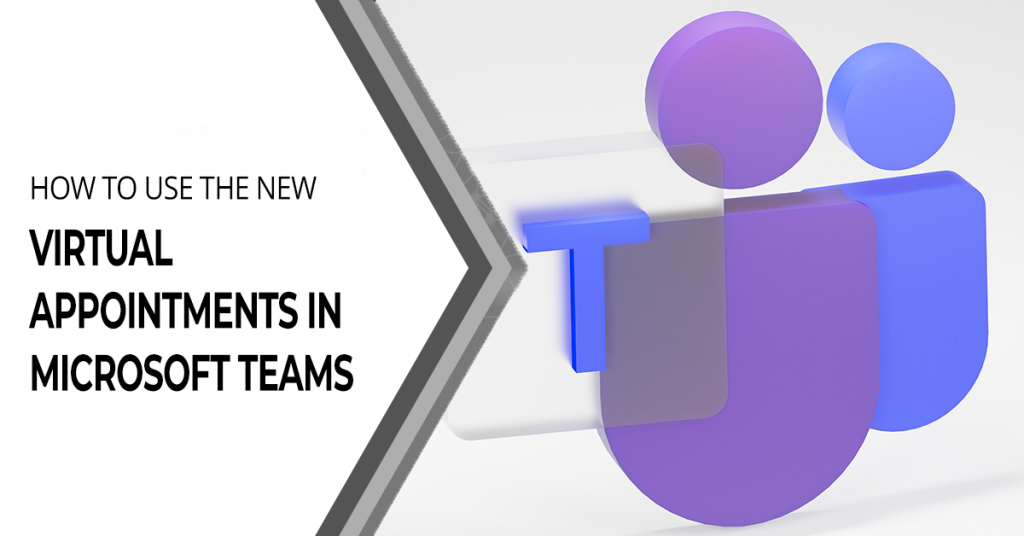 What Virtual Appointments in Microsoft Teams Can Do for You
Appointment scheduling has always been a routine work activity. Now that COVID has been on the wane, Zoom is not the primary vehicle for meetings, although the convenience is here to stay. Salespeople use it to answer questions about a product. Software companies allow people to schedule live demos. Telehealth therapists allow clients to book video sessions.
These are just a few of the groups that are going to love this new Microsoft Teams feature. Virtual Appointments adds a new meeting style tailored for engagements with customers.
Have you've been using Teams and a different online appointment app? No need to juggle the two since this new feature will streamline the experience.
What is Microsoft Teams virtual appointment?
Virtual Appointments is a handy all-in-one meeting platform for engaging with customers. You can schedule, manage, and conduct B2B or B2C meetings in Microsoft Teams.
This new feature combines the scheduling component with the video conference interface. Anyone with the link can join the virtual appointment - without having a Teams account.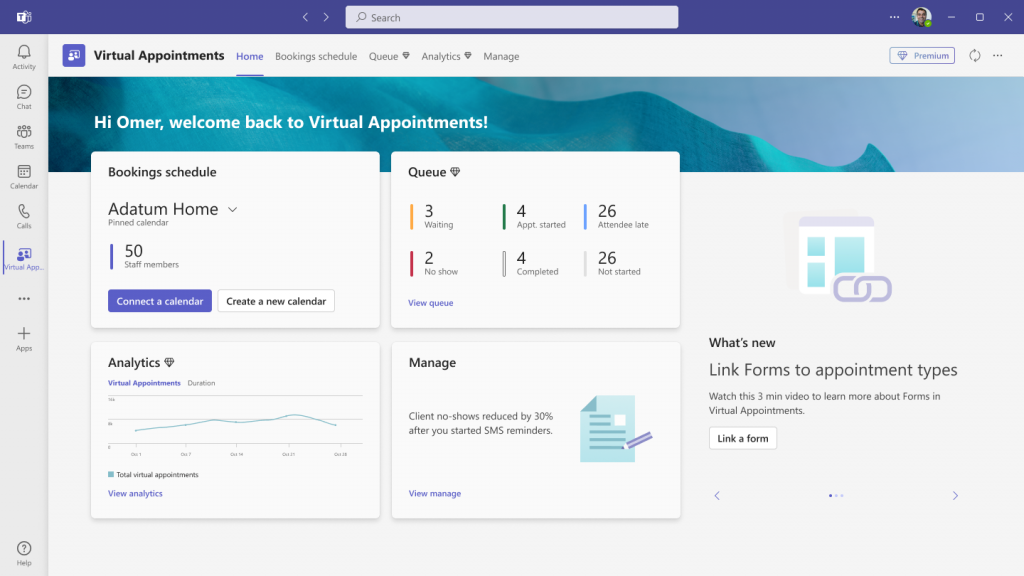 Microsoft's scheduling app, Bookings, connects to Teams, making the Virtual Appointments function as seamless as possible.
Some of the features below will be available with any Microsoft 365 plan. Some are available with a premium plan.
Teams Virtual Appointments Features
Manage Scheduled Appointments
At a glance, you can see all of your scheduled appointments in a single view, making it easy to manage cancellations and time changes.
Send Customized Confirmations & Reminders
You can send customized messages via SMS or email, personalizing the experience for them. You can also use automation to give that personal touch without having to send each one manually, which saves a bit of time.
Customized Waiting Room
It's easy to add a personal touch to your virtual engagements. You can customize the Teams waiting room, using themes and logos to brand your business. You can also chat with attendees while in the lobby waiting room, which is helpful if your current appointment is running a little long so you can let them know you'll be right with them.
Following Up on Meetings
You can send meeting follow-ups after a virtual appointment, which helps you reduce the time it takes to send any promised follow-up information. You also keep all details in a single place. This makes your client communication trail easier to follow.
Department & Organization Analytics
Do you know how effective your appointments are? It's hard to know if your demos are resulting in sales if you don't have a good tracking system. It's also important to have visibility into customer appointments across the organization.
You can do this with a premium analytics feature. It gives you helpful reporting. The report provides insights into virtual appointments in all departments.
How to Use Virtual Appointments
Your admin must set up a few things before you start using Virtual Appointments in Teams. They do need to be a Bookings admin to access these settings.
It is advisable to consult with your IT services provider, whether in-house IT support or an outsourced Managed Services Provider (MSP).
Create a Calendar
In the Virtual Appointments app, go to the 'Home' tab and choose 'Create a calendar.'
Larger organizations may wish to create different calendars for different departments.
Populate With Staff
Once the initial setup has been done, just simply add staff members - up to 100. You will also need to assign them a role. Once you've added the employees, you can view their availability in both Teams and Outlook.
Another nice thing about using an integrated platform like M365 is the cross-app compatibility. Your calendar syncs across apps.
Create Appointment Types
The next step is to set up your appointment types. Choose from these two options:
Scheduled: You schedule the day/time. The system adds this information to the email confirmation.
On-demand (Teams Premium): Customers can choose when to meet from your booking calendar.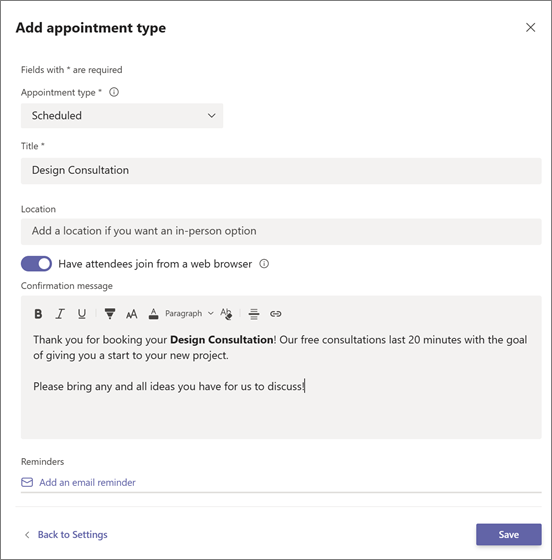 SMS Notifications Setup
You can set up SMS notifications if you choose to - and have the right Teams plan. This allows you to send appointment confirmations and reminders via text message easily.
Note: To receive the SMS notifications, attendees currently need a valid U.S., Canadian, or U.K. phone number.
Link Forms
If you would like attendees to fill out any forms, you can link them now. Virtual Appointments allows linking up to four cloud-based forms, which you would need to have created in Microsoft Forms.
Publish Your Booking Page
This next step applies if you have Teams Premium and you want to give customers the ability to book on-demand appointments. If so, you will need to publish the booking page. Just go to the 'Manage' tab of Virtual Appointments, select 'Booking page,' and turn on 'Publish booking page.'
Frequently Asked Questions
Q: Do I need Microsoft 365 to use Teams?
A:  In Microsoft's own words: "If you don't have Microsoft 365 and you don't use a business or school account, you can get a basic version of Microsoft Teams. All you need is a Microsoft account. To get a basic free version of Microsoft Teams: Make sure you have a Microsoft account."
Q: Do Teams meetings cost money?
A: Not if you already pay for a business-class version. In the Teams you can use for free, there is a very modest version of meetings.
Q: What is the difference between a text message and a SMS message?
A:  There is effectively no difference. The only difference is: SMS (Short Message Service) is a 'text only' (but you get to use emojis!) mode of communication – no images or videos whereas you can include those if you text using MMS (Multimedia Messaging Service).
Q: What is cheaper Teams or Zoom?
How secure is your network?
As a reputable member of the IT Support Los Angeles community since 2002, IT Support LA offers a FREE, no-risk network and security assessment. It is a non-intrusive scan that allows us to deliver a comprehensive report that is yours to keep. No strings, and no obligation to ever use our Managed IT Services.
The best defense is the best Cybersecurity to protect your data from theft, and a top-notch Managed Services Provider (MSP) to ensure continued reliability and defenses against newly emerging threats.
With our 100% Money Back Guarantee in writing, we offer a risk-free way for prospective clients to try us out. Because we do not require a 'hard' contract, our clients can fire us at any time with 30 days' notice. We have to be good.
Among the Managed IT services we provide:
IT HelpDesk Service
Onsite IT Support
Cybersecurity
Cloud migration and management
Email migration services
Backup and disaster recovery
VoIP phone systems
IT disposition and recycling
Office moves
White label services (IT to IT)
Get Help Using Your Microsoft 365 Tools More Effectively
Microsoft 365 is a platform with many possibilities. Often, companies aren't using all the features they could. As a result, their team may be less effective. They could also be wasting money on apps they don't need.
Are you interested in assistance supercharging your Microsoft 365 experience? Give us a call today to set up a meeting.
IT Support LA is an award-winning Managed Services Provider (MSP):
o  3 Years awarded Best IT by the Small Business Expo
o  Awarded 2nd best company of any type in the US by the Small Business Expo SB100
o  Awarded Best IT Support in California by Channel Futures
o  Winner of Best IT Support in Los Angeles by Channel Futures
o  Listed as one of the world's Top 501 MSPs by CRN and in the top 250 in the   'Pioneer' listing
o  4 years listed as one of the Top 501 MSPs in the World by Channel Futures
o  Globee 2021 Bronze Award winner for Chief Technology Officer of the Year
o  Globee 2022 Gold Award winner for Chief Technology Officer of the Year
o  Named one of 2022's 50 'Best' businesses in California by UpCity
o  Named Best of IT winner by UpCity
o  Winner of Local Excellence Award for 2021, 2022 and 2023 by UpCity
o  Named Best of Cloud Consulting winner by UpCity
o  Certified as Top MSP and Cybersecurity Pro by UpCity
o  Named Best IT in Los Angeles by Expertise.com.
For more information, or to receive your FREE no-risk network and Cybersecurity assessment, just fill out the form on this page or call us at:
818-805-0909