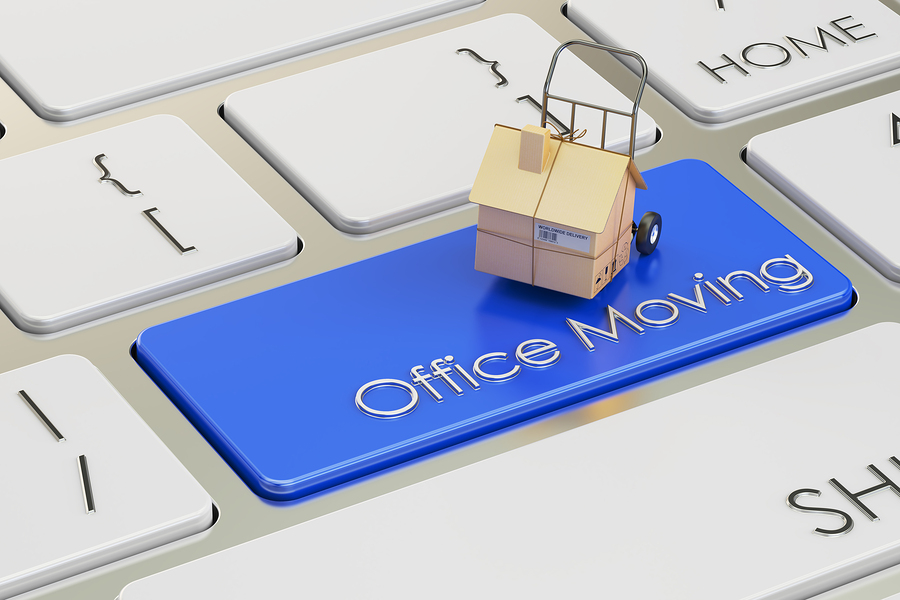 Most people like to be in a new location, especially if it's larger and better, but nobody likes to move. Without proper planning and execution, an office move can easily degenerate into chaos, especially when it comes to handling valuable and essential technology. It is essential to take extra care, both with fragile items and when packing and moving your network, devices, and other peripheral tech items.
It's one thing for a home move – packing up a couple of computers and peripherals, but it's quite another thing when moving an office network. If your business only has 4 computers, it may be worthwhile to do it yourself, but to maintain business continuity during and after a move, it is advisable to let a qualified IT services company do the move for you.
If you do attempt to 'go it alone, we've put together a handy checklist to help you navigate this process smoothly. Use this to help ensure your technology remains safe and sound during the move.
Back Everything Up
Data backup should be done regularly as a set rule but perform a special backup before you start disassembling your technology. Create copies of important files, documents, photos, and any other irreplaceable information. You can either use an external hard drive, cloud storage, or both. By doing this, you'll have peace of mind knowing you've protected your data. Should something unfortunate happen during the move, your files will be intact.
Label and Organize Cables
Who hasn't had an area so strewn with tangled cables that you don't want to touch it for fear one may come unplugged? Messes like that are especially likely to exist when you're eager to set up your devices in the new place. To avoid this headache, take the time to organize and label your cables before packing.
Use cable ties or twist ties to keep them neatly bundled. Attach labels to identify which cable belongs to which device. Trust us; this simple step will save you a lot of time and frustration later.
Pack Devices with Care
If you still have them, use the original boxes when packing your devices. If you have the storage space, this is why you don't want to toss those out. The original packaging is designed to provide the best protection during shipping, with specific compartments to secure each component.
Use sturdy cardboard boxes if the original boxes aren't available. Wrap each device in bubble wrap or anti-static foam to prevent any damage. Fill any empty spaces in the boxes with packing peanuts or crumpled paper to ensure a snug fit. Electronic devices don't respond well to being jostled and bounced.
Remove Ink Cartridges and Batteries
Many people never even think about this because the inclination is to just load up your printers 'as is' to move them. Not a good idea. For printers and devices that use ink or toner, it's crucial to remove those cartridges before packing the devices. Ink cartridges can leak or dry out during transit, and nobody likes to clean up toner. This can cause a mess and/or render the cartridges useless.
Remove batteries from devices such as laptops, cameras, or remote controls to prevent accidental power-on and possible damage during the move. Pack the cartridges and batteries separately in sealed bags and label them.
Take Photos of Cable Connections
This is such a simple step, but it is often overlooked. Before unplugging cables from your devices, snap a photo of the connections. This visual reference will be very helpful when it's time to set up everything at your new location. You won't have to worry about remembering which cable goes where. Just refer to the photos, and you'll be back up and running in no time!
Pack Wi-Fi Equipment Separately
Reconnecting to the internet is usually one of the first things done for both home and office moves. To make it easier, pack all your Wi-Fi network equipment separately from other items.
This includes your modem, router, ethernet cables, and other network connectors. Clearly label the box "Wi-Fi Equipment" so you'll know right where to go first to get online.
Secure Fragile Screens
If you're moving devices with delicate screens, such as TVs or monitors, take extra precautions to protect them from scratches and cracks.
Place a soft cloth or microfiber cloth over the screen and secure it with elastic bands or tape. This barrier will shield the screen from any accidental contact during transit. Additionally, make sure to pack these items in a vertical position to reduce the risk of damage. DO NOT consider them a flat surface to put boxes on.
Point Out Fragile Items to the Movers
If you use professional movers, be sure to be clear about your technology. Inform them about the fragile nature of your devices and other tech items. Clearly label the boxes containing your valuable devices as 'fragile.' Provide any necessary instructions to handle them with care. By communicating your concerns upfront, you reduce the chances of accidents while moving.
Test Everything After the Move
You don't want to find out about problems on a busy Monday morning after you've moved your office. Once you've reconnected the cables for your devices, turn them on and test them to ensure they work correctly and weren't damaged in transit.
Something may not look damaged on the outside. But that doesn't mean that there isn't internal damage. You want to know this right away so you can file a claim and call in an IT services professional to help.
Frequently Asked Questions
Q: What to consider when moving to a new office space?
A: When you first decide you need to move, the new location is of paramount importance. If it's within 10 to 15 minutes of your current address, there is nothing to worry about. BUT, if you are moving a long distance – say, from the San Fernando Valley to Bakersfield or further, you will undoubtedly lose some employees. Also to be considered, which have not been mentioned above:
Creating a realistic timeline
Budgeting and cost control
Relegating move duties (who does what)
Construction/cabling at the new location
Securing internet access (must be done early)
Figuring out who will sit where (floor plan)
Maintaining communication during the move
Hardware upgrades – why move devices nearing obsolescence? Figure upgrades into the cost.
Q: How do you announce an office relocation?
A: For employees, don't make it a complete surprise. Let them feel involved, even though management will make all the important decisions. It's good to ask for input, but don't let it get out of hand or chaos may ensue.
Let employees know that you are considering a move and update them as you firm up the details.
Q: How do I know if my moving company is reputable?
A:  First, do your homework. Research the company. Check to see if they are registered with the California Public Utilities Commission (CPUC) for California intrastate moves or the U.S. Department of Transportation (DOT) for interstate moves. Check out their reviews and their standing with the Better Business Bureau.
The California Attorney General has a website offering more tips HERE.
Q: How much are movers in LA?
A: As with any industry, the cost varies, and depends on how much stuff you're moving and the distance involved in the move. The website Angi has a cost calculator that may give you a ballpark idea. We here at IT Support LA do not guarantee accurate results.
How secure is your network?
As a reputable member of the IT Support Los Angeles community since 2002, IT Support LA offers a FREE, no-risk network and security assessment. It is a non-intrusive scan that allows us to deliver a comprehensive report that is yours to keep. No strings, and no obligation to ever use our Managed IT Services.
The best defenses are expert Cybersecurity to protect your data from theft, and a top-notch Managed Services Provider to ensure continued reliability and defenses against newly emerging threats.
With our 100% Money Back Guarantee in writing, we offer a risk-free way for prospective clients to try us out. Because we do not require a 'hard' contract, our clients can fire us at any time with 30 days' notice. We have to be good.
Among the Managed IT services we provide:
IT HelpDesk Service
Onsite IT Support
Cybersecurity
Cloud migration and management
Email migration services
Backup and disaster recovery
VoIP phone systems
IT disposition and recycling
Office moves
White label services (IT to IT)
IT Support LA is an award-winning Managed Services Provider (MSP):
o  3 Years awarded Best IT Support by the Small Business Expo
o  Awarded 2nd best company of any type in the US by the Small Business Expo SB100
o  Awarded Best IT Support in California by Channel Futures
o  Winner of Best IT Support in Los Angeles by Channel Futures
o  Listed as one of the world's Top 501 MS by CRN and in the top 250 in the   'Pioneer' listing
o  4 years listed as one of the Top 501 MSPs in the World by Channel Futures
o  Listed as #21 MSP in the World in Channel Futures NextGen 101
o  Globee 2021 Bronze Award winner for Chief Technology Officer of the Year
o  Globee 2022 Gold Award winner for Chief Technology Officer of the Year
o  Named one of 2022's 50 'Best' businesses in California by UpCity
o  Named Best of IT winner by UpCity
o  Winner of Local Excellence Award for 2021, 2022 and 2023 by UpCity
o  Named Best of Cloud Consulting winner by UpCity
o  Certified as Top Managed Services Provider and Cybersecurity Pro by UpCity
o  Named Best IT Services in Los Angeles by Expertise.com.
Need Help with a Safe Technology Move?
Moving can be a hectic and challenging process, especially when moving office tech. But with the right approach, you can ensure the safety of your devices from point A to point B.
Need help from the pros to move your technology securely? Give us a call today to schedule a chat – as well as our FREE network and Cybersecurity risk assessment.
818-805-0909