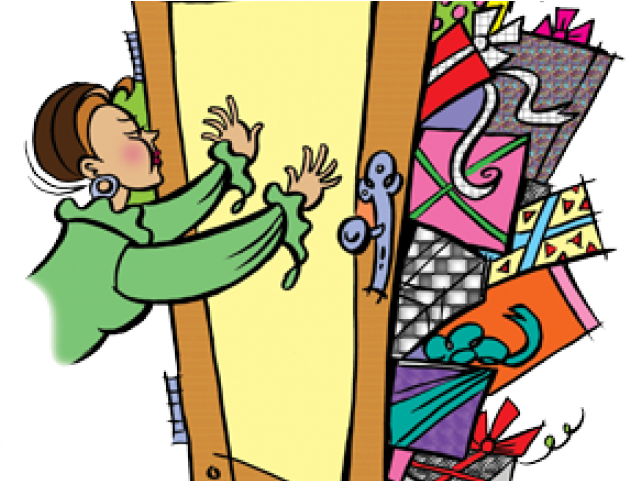 Everybody has seen those old comedy gags where somebody opens a closet door, and a huge pile of stuff falls out. If simple organizational rules are not implemented for the cloud storage your employees share, it could end up looking like that.
There is a ton of stuff in that particular 'cloud-closet.' According to Statista, the percentage of data stored in the cloud by organizations doubled between 2015 and 2022 – from 30% to 60%.
Cloud storage solved a few difficulties involved in sharing files. Think of a document that several people are working on – in the old days, co-workers had to email it back and forth and it was not always clear who had the most recent version of the document.
With disciplined cloud storage policies & procedures, the most recent version of the file is available at a click. As long as people do not save it in the wrong place or copy it to multiple places, this streamlines the ability to work in an organized manner.
Just like the storage on your desktop computer, cloud storage can easily fall into disarray with duplicate files and folders strewn about, making it difficult for users to find what they need. Looking for files might be the most unproductive timewaster in the workplace today.
As reported by TechRepublic, a study from marketing research firm Wakefield Research and data analysts at Elastic surveyed 1,000 office professionals and the results are stunning. 81% said that they can't find a document when an urgent need for it arises. It is estimated that 50% of office workers spend more time looking for files than they do actually working.
So how do you alleviate this 'stick in the spokes' of your productivity? Here are a few tips:
1) Adopt a standardized procedure for naming files.
Institute a File Naming Convention as part of office policy and demand adherence from all employees – including management. Well-meaning bosses and employees sometimes 'clean things up' by consolidating files into one new folder – and then mis-name it.
For example: a client whose original information file or folder was created with the business name – let's say 'Burbank Neurology Specialists' which is owned by Doctor Smith. The files about the practice are now consolidated under a new name: 'Dr. Smith'. Employees who need this folder will waste time looking for it under the old name.
What is the standard file naming convention?
A File Naming Convention (FNC) is a framework for naming your files in a way that describes what they contain and how they relate to other files. There will be different rules for different departments.
For example: When dealing with clients, the full and correct business name should be used. This method should also be used for vendors and subcontractors. Inside the main folder can be subfolders for things such as Projects.
Purdue University published a useful guide: 'Data Management for Undergraduate Researchers'.
2) Keep your file structure a maximum of 2 to 3 folders deep.
You need to save a file somewhere – but where?. You open a folder. Inside are a dozen other folders, none of which seem like what you're looking for. You open the top one and there are half a dozen folders in there – also not what you're looking for. Click - more folders click – more folders… click – more folders - and so forth.
Pretty soon, you just save it anywhere and get some coffee. Keep the structure 2 to 3 folders deep and use your standardized File Naming Convention.
3) Only create new folders for 10 or more files.
Don't clutter up your cloud storage with dozens and dozens of folders that only contain 2 or 3 files. For clients, vendors and subcontractors, this rule can be waived. Just name miscellaneous files correctly and perhaps appoint a Storage Administrator to direct uncertain users where to save them.
4) Teach employees how to 'Save it Right'.
A File Naming Convention is nice on paper, but users need to learn how to use it – and it must be drilled into them to adhere to the policy. Training should be periodically repeated – much the same as with ongoing Security Awareness Training which keeps Cybersecurity measures in the front of the users' minds.
5) Color-code folders by type.
Many cloud file systems allow for color coding. To avoid looking through a mountain of folders, color-code by department. For Example: Green for sales; Blue for marketing; Yellow for Human Resources, etc.
6) Archive and Declutter folders regularly.
This can be a duty for a Storage Administrator or management. While your IT Services department or Managed IT Services provider can give you helpful tips, do not leave it to IT Support to decide what is or isn't unimportant data. Set a time frame – monthly is advisable, but no longer than three months, for example. Old files and duplicates should be archived or deleted, as necessary. No matter how well organized your storage is, it takes time to go through unnecessary files. This stuff piles up fast.
Frequently Asked Questions
Q: What should you not do when naming a file?
A: Do NOT use generic terms to start a file name. You will end up with rows and rows of files starting with 'Letter' or 'Draft.'
Do NOT create multiple version names for shared files. Consider using a version control system like Git.
Above all, do NOT disregard the procedures in your company's File Naming Convention.
Q: What is Digital decluttering?
A: Regardless of the device – desktop, iPhone tablet, etc., it simply means clearing out things you don't use that take up space, like old apps, folders, and files. Get rid of all that downloaded information you needed for projects that are completed.
Q: What happens when you archive data?
A:  Data archiving takes data that is no longer active, but NOT a target for deletion, and keeps it in a place where it is out of the way for daily work, but can be retrieved at any time.
Q: How do I recover archived files?
A: Simply right-click on the file and select 'Unarchive.'