For more than a decade, UpCity's mission has been—and continues to be—to help businesses find B2B service providers they can trust. The UpCity Recommendability Rating was developed to determine a service provider's credibility and recommendability, giving UpCity the confidence to recommend them to the more than 2 million businesses that visit their site.
Each year, UpCity analyzes, and scores more than 70,000 service providers based on their UpCity Recommendability Rating and acknowledges the top national and local providers with an UpCity Excellence Award. The results are in, and we won!
We are proud to announce that the IT Support LA  team has been recognized as one of the top B2B service providers of 2022 in the Los Angeles area by UpCity!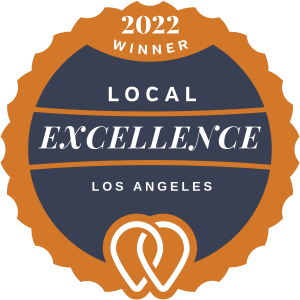 Joe Banks, SVP of Engineering of UpCity, had this to say about IT Support LA:
"The team at IT Support LA simply won't settle for 'good enough.' This is a team that can tackle the most complex, nuanced challenges, and do it with a customer-first approach that produces long-lasting relationships. Congratulations on winning a 2022 Excellence Award!"— Joe Banks, SVP of Engineering, UpCity
This recognition has been driven in large part by our 5-star review rating on UpCity. Here are a few of our favorite pieces of feedback we've received from our incredible customers:
"We had to move most of our office staff to remote connections once the COVID lockdown started. We started having a lot of problems that our It service couldn't get fixed. We found IT Support on Google and they did a remote security and network scan for free and gave us a report. That's when we found out how bad our old IT was. We switched and Yuri and his team at IT Support LA fixed everything. They're quick, responsive, and we couldn't be happier." – Customer, January 2022
"IT Support has been my firm's IT support company for the last couple years. They have been terrific and have helped bring our technology up to current standards. I would recommend them to anyone without hesitation." – Justin Clark, March 2021
Since 2002, IT Support LA has been providing dependable, affordable, flexible IT support to small- and mid-sized businesses in Los Angeles and the surrounding areas. Thank you to all of our clients for trusting us; we look forward to our continued partnership and even greater success ahead.
Learn more about the UpCity Excellence Awards.