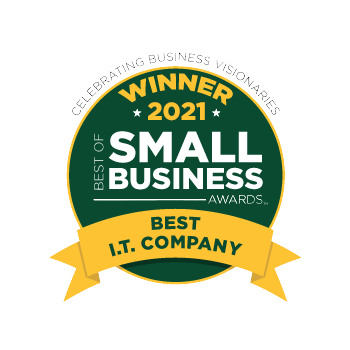 The Small Business Expo Awards Names IT Support LA as Best IT for the 3rd Consecutive Time.
The voters for The Small Business Expo's 2020/2021 'Best of Small Business Awards' chose IT Support LA by a wide margin over all of the other IT firms, from the hourly-rate 'IT guys' to the most well-known Managed IT Services providers in the entire nation competing for this prestigious 'Best It' award. Note that since COVID forced the cancellation of the Small Business Expo Awards for 2020, they combined last year and this year into one year (2021) to represent both. In effect, our three wins show us as Best IT for four consecutive years.
As a longtime respected member of the IT Support Los Angeles community, we humbly accept this award as recognition that we are ever-faithful to our core Mission Statement:
 "Our mission is to provide all-inclusive IT Services for small local businesses with an emphasis on redefining your IT experience by committing to go the extra mile, providing quality results and focusing on customer success which results in long lasting relationships."
When we talk about long lasting relationships, we recognize that we owe this award to many people, not the least of which are our own clients, who not only voted for us but whom have put their trust in us over the years to be an excellent steward of their office Information Systems. As we constantly seek to improve our service, this award helps to reassure us that we are on the right path. Plus, we are not shy about alerting our clients when this vote takes place.
About the Small Business Expo
"Small Business Expo is America's BIGGEST Business to Business Trade Show, Conference & Networking Event for Small Business Owners, Entrepreneurs & Start-Ups.
Hosted in major US Cities around the Country and Virtually, passionate Small Business Owners gather at Small Business Expo to attend business-critical workshops led by industry experts, shop from leading vendors that help small businesses grow and network to build important new business relationships.
Small Business Expo is the Event to take strategic action to immediately improve and grow your Small Business."

About the Best of Small Business Awards
In the words of The Small Business Expo:
"The Best of Small Business Awards ™ is America's most prestigious honor that recognizes and celebrates the BEST Small to Mid-Sized Business Visionaries. With a number of notable "Best of Small Business" categories to choose from, The Best of Small Business Awards ™ is the largest Annual Business Recognition Program in the US.
The Best of Small Business Awards ™ is presented by Small Business Expo (a leading Event Organizer with over 100 Successful Business Shows Produced), the Nation's BIGGEST and most attended Business-to-Business Networking Event, Trade Show & Conference, hosted in major US cities. Small Business Owners and Entrepreneurs attend Small Business Expo to engage in cutting-edge business-critical workshops, shop for vendors that can help their business grow & network with thousands of attendees."
Since its inception in 2008, The Small Business Expo has grown in both recognition and prestige by spotlighting the best of every type of enterprise in the United States. They themselves have been recognized four years in a row by Inc 5000 as one of the fastest growing companies in America. Its stature in the business community has grown in concert with the recognition and respect its annual awards have garnered in recognizing Small Businesses across the country.
About IT Support LA
Since 2002, we have been a prominent member of the IT Support Los Angeles Community. We specialize in:
IT Help Desk Service
Onsite IT assistance
Cybersecurity
Cloud migration and management
Email migration
Backup and disaster recovery
VoIP phone systems
IT disposition and recycling
Office moves
White Label services (IT to IT)
We embody each and every aspect of the true, top-notch MSP. Our methodologies are iron-clad, yet adaptive to your environment. We are entering our 19th year serving the Greater Los Angeles and Ventura County areas. We have continuously scaled our growth to ensure no 'growing pains', and our technicians are never finished with 'school' – the IT landscape, as well as the nature of Cyber Crime, changes constantly and we maintain that those who are not a step ahead are far behind.
It is just this philosophy that has made our company award-winning:
o  3 Years awarded Best IT by the Small Business Expo
o  Awarded 2nd best company of any type in the US by the Small Business Expo SB100
o  Awarded Best IT in California by Channel Futures
o  Winner of 'Best IT' in Los Angeles 2021 by Channel Futures
o  Listed as one of the world's Top 501 MSPs by CRN and in the top 250 in the 'Pioneer' listing
o  4 years listed as one of the Top 501 MSPs in the World by Channel Futures
o  Globee Bronze Award winner for Chief Technology Officer of the Year in the IT Cloud/SaaS category
o  Named Best of IT Services winner for 2021 by UpCity
o  Winner of Local Excellence Award for 2021 by UpCity
o  Named Best of Cloud Consulting winner for 2021 by UpCity
o  Certified as Top Managed Services Provider and Cybersecurity Pro for 2021 by UpCity
o  Named Best IT Consultant in Los Angeles for 2021 by Expertise.com.
As our way of giving back to the Greater Los Angeles Community which has been so kind and supportive of us over the years, we offer a completely FREE Network and Security Assessment. There are no strings, no obligations. We perform a non-intrusive scan and deliver to you a comprehensive report detailing the state of your network infrastructure and any vulnerabilities. The report is yours to keep. There will be no sales pitch and no obligation to do any future business with us.
Please call us for a FREE consultation by phone, and we will help you establish safe, reliable, and cost-effective solutions.
818-805-0909