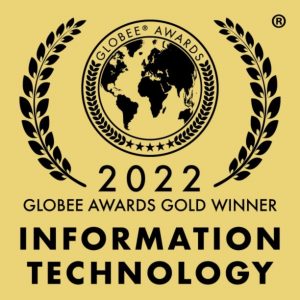 May 26, 2022: IT Support LA announced today that The Globee® Awards, organizers of world's premier business awards programs and business ranking lists, has named Yuri Aberfeld a Gold Medal Award winner in the Chief Technology Officer (CTO) category in the 17th Annual 2022 Information Technology World Awards®. These prestigious global awards recognize information technology and cyber security vendors with advanced, ground-breaking products, solutions, and services that are helping set the bar higher for others in all areas of technology and Cybersecurity.
"We are proud to be recognized as an industry player whose Managed IT Services , and particularly our role as an award winning Cloud Services Consultant, have been named a winner by the Globee Awards," says Yuri Aberfeld. "Behind this distinguished success is our dedication to innovation and our relentless drive to provide our clientele with ever-improving service in our field of comprehensive IT Support. We believe this recognition from Globee Awards further validates our commitment to our customers and their Cybersecurity needs." 
More than 170 judges from around the world representing a wide spectrum of industry experts participated in the judging process. The Information Technology World Awards are open to all Information Technology and Cyber Security organizations from all over the world and their end-users of products and services.
"The information technology industry has always been and will continue to be robust and innovative," said San Madan, co-President of Globee Awards. "Though the pandemic has changed the way people live, work, shop, and socialize, there is optimistic demand for newer technologies and innovations everywhere."
Stay posted and read success stories of organizations by subscribing to the Globee Newsletter: https://globeeawards.com/subscribe/
Globee is a registered service mark.
Subscribe to the Globee weekly Newsletter
Subscribe to Globee Awards YouTube channel
Follow Globee Awards on twitter
Follow Globee Awards on LinkedIn
About the Globee Awards
Globee Awards are conferred in nine programs and competitions: the American Best in Business Awards, Business Excellence Awards, CEO World Awards®, Cyber Security Global Excellence Awards®, Disruptor Company Awards, Golden Bridge Awards®, Information Technology World Awards®, Sales, Marketing, Service, & Operations Excellence Awards, and Women World Awards®. Learn more about the Globee Awards at https://globeeawards.com
twitter @globeeawards #globeeawards #ITWorldAwards #globeeawardscybersecurity #cybersecurity #globalexcellenceawards #InformationTechnology
About IT Support LA
Since 2002, we have been a prominent member of the IT Support Los Angeles Community. We specialize in:
We embody each and every aspect of the true, top-notch MSP. Our methodologies are iron-clad, yet adaptive to your environment. We are entering our 19th year serving the Greater Los Angeles and Ventura County areas. We have continuously scaled our growth to ensure no 'growing pains', and our technicians are never finished with 'school' – the IT landscape, as well as the nature of Cyber Crime, changes constantly and we maintain that those who are not a step ahead are far behind.
It is just this philosophy that has made our company award-winning:
3 Years awarded Best IT by the Small Business Expo
Awarded 2nd best company of any type in the US by the Small Business Expo SB100
Awarded Best IT in California by Channel Futures
Winner of 'Best IT' in Los Angeles 2021 by Channel Futures
Listed as one of the world's Top 501 MSPs by CRN and in the top 250 in the 'Pioneer' listing
4 years listed as one of the Top 501 MSPs in the World by Channel Futures
Globee 2021 Bronze Award winner for Chief Technology Officer of the Year
Globee 2022 Gold Award winner for Chief Technology Officer of the Year
Named Best of IT Services winner for 2021 by UpCity
Winner of Local Excellence Award for 2021 by UpCity
Named Best of Cloud Consulting winner for 2021 by UpCity
Certified as Top Managed Services Provider and Cybersecurity Pro for 2021 by UpCity
Named Best IT Consultant in Los Angeles for 2021 by Expertise.com.
As a recognized leader in the IT Support Los Angeles community since 2002, we at IT Support LA – and particularly Yuri - have all been involved with our neighbors welfare: Among his charitable endeavors:
Yuri Aberfeld is on the Program Committee Board of Haven Hills, which helps victims of domestic abuse with various services, including a safe shelter, and Pups Without Borders, a charity that rescues dogs in the US and Mexico. We are a consistent contributor to The American Cancer Society's Relay for Life, and sits on the Board of the cancer charity Rally Hearts Foundation.
Yuri is also on the board of the SFVBA charity, The Valley Community Legal Foundation (VCLF).
VCLF Mission Statement: "As the charitable arm of the San Fernando Valley Bar Association, the Valley Community Legal Foundation promotes education in the law, provides scholarships to qualified students pursuing law related studies, supports the courts, increases access to justice, and assists families in conflict and victims of domestic violence with their legal needs. The Foundation relies on volunteers and donations for the services it provides."
Help for Aspiring Geeks
Yuri has founded Capabil-IT Inc., a non-profit which offers after-hours free programs to individuals who aspire to a career in IT support and services, with the goal of assisting them with their learning, certifications, and job placement. The emphasis of Capabil-IT is that it bridges the gap between typical 'School-Taught' IT and real life IT.
As our way of giving back to the our neighbors in Greater Los Angeles and Ventura County areas who have been kind and supportive of us over the years, we also offer a completely FREE Network and Security Assessment. There are no strings, no obligations. We perform a non-intrusive scan and deliver to you a comprehensive report detailing the state of your network infrastructure and any vulnerabilities. The report is yours to keep. There will be no sales pitch and no obligation to do any future business with us.
Please call us for a FREE consultation by phone, and we will help you establish safe, reliable, and cost-effective solutions.
818-805-0909