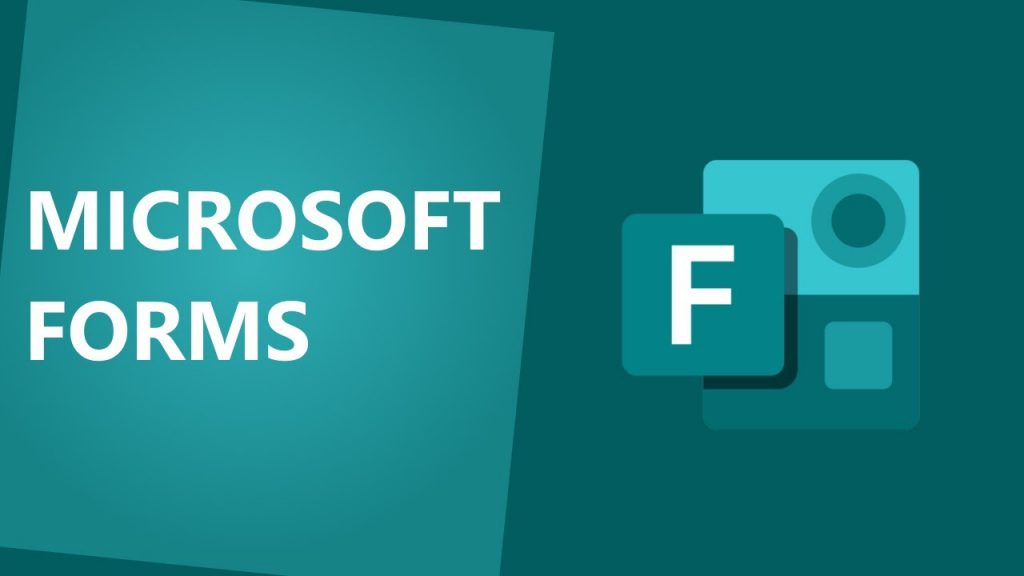 Considering the popularity of Office 365, it is no surprise that Microsoft 365 (which includes Office 365) has already become one of the most popular cloud platforms in the world, with about 345 million paid seats. Microsoft cloud tools numbers were up 32% in Q3 2022 compared to the previous year.
Among other things, its continued growth can be partially attributed to the suite of cloud tools offered in the service. Aside from the main MS Office suite, users get a stable of over 20 different apps.
With such a variety of apps, it's not unusual that some are overlooked. Companies and end-users grab what they know they need, and while they may wonder momentarily what some of those other apps do, many never be aware how helpful these tools can be. One of the handiest apps you get free with a Microsoft 365 subscription is Microsoft Forms.
With Forms it is easy to do a variety of tasks, from sending out year-end customer surveys to assessing change readiness. This online survey and form-building tool offers many great benefits to organizations.
What Is Microsoft Forms?
Microsoft Forms is an easy-to-use form, quiz, and survey creator using a simple 'drag-and-drop' format. It allows you to send out surveys via a link. Recipients can fill out the form you created online from any device.
Once the survey is filled out, the results come into the software instantly. You can see the collated results charted in the software. You can also export the results to Excel.
How to Get Started in Forms:
Visit Forms.office.com and log into your Microsoft account.
Choose "New Form" or "New Quiz: from the top menu:

OR you can choose to explore the built-in templates:


Click "Add New" to add a new form field. You can choose from field types:
Choice (i.e., multiple-choice question)
Text
Rating
Date
Ranking
Likert (a scale that records attitudes/opinions about a topic)
Net Promoter Score® (a scale from "not likely" to "extremely likely")
Section (separator that can include a title and image)
Enter your questions.
Once finished, click "Send" at the top. You can distribute the survey using the following options:
Link to a web form
Email
QR code
Embed in a web page
Via Facebook or Twitter
View responses on the "Responses" tab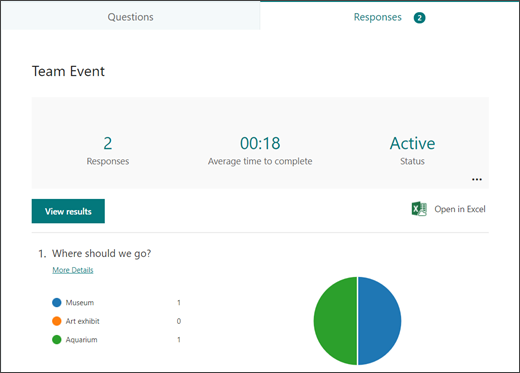 Image from Microsoft
What are the benefits of using Microsoft Forms?
It's Included in Microsoft 365 Subscriptions
If you already subscribe to Microsoft 365, then it's not only easy, but it makes sense to use Forms. If you're using a separate survey tool like Survey Monkey, it can save you money. It's easily accessible by signing in with your Microsoft account.
It Saves Time
Sending a survey by email can be time-consuming. You have to worry about emails bouncing due to an attachment. You also need to spend time collating all the results as they come in.
MS Forms can save you and the people you wish to survey a ton of time. There is no need for the recipients to download anything or open an email file attachment. They simply follow your link and fill out the form online. The easier it is to take the survey, the more likely it is that people will do it. As soon as they fill the survey out, you get the result. Forms also collates all the answers for you.
Automatically Get Charted Results
You can see the results of the survey in meaningful graphs very quickly, and it is simple to export the results to Excel if you want to upload the survey results into another platform.
On the "Responses" tab, you can hover over the result graphs to see the details.

Image from ocmsolution.com
It's Easy to Use
The learning curve for MS Forms is very low. The interface is simple and intuitive, so you can just jump in and start using it.
What can you do with Microsoft Forms?
Annual Customer Satisfaction Survey
This is a valuable tool for any business, so making it easy to take the survey by using a web-based tool can increase your response rate from customers. They can quickly fill out your satisfaction survey from any device, making it fast and easy for them.
You see the results immediately, so you can chart them to gain insights into what your business is doing right, and what you can improve upon.
Employee Security Awareness Quiz
IT Support LA is a huge advocate of Security Awareness Training. As part of an ongoing training regimen, it is wise to send a security awareness quiz to your employees using Forms, as it can be easily integrated into your training. The platform also tells you the average response time per person.
Change Readiness Survey
Due to the speed of technology-driven transitions in business, Change Management is a growing focus of many organizations. You can use Forms to improve user readiness for change adoption. Create and send out a change readiness survey to affected groups.
Event Registrations
If you are hosting an event, you can easily gather registration details. Simply send out a Forms link via QR code, social media, text, or email.
Volunteer Registration Form
You can embed an MS Forms registration form on your web page to sign up volunteers. The platform will automatically collate different talents and other volunteer information. This helps you better match people's talents to your needs.
But Wait! There's More…
You'll find more ideas from the Forms templates. Such as:
Competitive analysis study
Post-event feedback survey
Office facility request form
Employee satisfaction survey
Product pricing survey
Food catering request form
Save the date form
Course enrollment form
In Summation

MS Forms is a handy, multi-faceted tool. Its format is intuitive and easy to use right away. The kicker is whether you already use Microsoft 365 – because Forms is included for free. If you are using another platform such as Google Workspace, you can use Google Forms, which also gets high reviews.
Most people would not switch from Google Workspace to Microsoft 365 just to get Forms, but if you have enough issues with Workspace, it might be worth looking at M365's overall package.
Frequently Asked Questions
Q: Is Microsoft Forms as good as SurveyMonkey?
A: As with most things, it's a matter of what you need a survey app to do. SurveyMonkey has been around quite a bit longer and has over 9500 reviews with a rating of 4.58/5 stars. Relative newcomer has 67 reviews with a rating of 4.46/5 stars – pretty close. The site 'Software Advice' does a side-by-side comparison HERE.
Q: Can I edit responses in Microsoft Forms?
A: In Forms itself you cannot edit responses, but if you created the form you can export it to Excel and edit responses there.
Q: Are Microsoft Forms truly anonymous?
A: Microsoft Forms are not anonymous automatically, but you can make them anonymous easily if you choose.
Q: Are Microsoft Forms responses secure?
A: Yes. MS Forms data is encrypted – both at rest and in transit. If a hacker did breach this data, they could not read it. Sound Cybersecurity dictates that all data should be encrypted.
How secure is your network?
As a reputable member of the IT Support Los Angeles community since 2002, IT Support LA offers a FREE, no-risk network and security assessment. It is a non-intrusive scan that allows us to deliver a comprehensive report that is yours to keep. No strings, and no obligation to ever use our Managed IT Services.
The best defense is the best Cybersecurity to protect your data from theft, and a top-notch Managed Services Provider (MSP) to ensure continued reliability and defenses against newly emerging threats.
With our 100% Money Back Guarantee in writing, we offer a risk-free way for prospective clients to try us out. Because we do not require a 'hard' contract, our clients can fire us at any time with 30 days' notice. We have to be good.
Among the Managed IT services we provide:
IT HelpDesk Service
Onsite IT Support
Cybersecurity
Cloud migration and management
Email migration services
Backup and disaster recovery
VoIP phone systems
IT disposition and recycling
Office moves
White label services (IT to IT)
Would You Like to Get More Out of Microsoft 365?
There is a good chance that your company may be leaving some value on the table with M365. Give us a call today to learn more about our Microsoft 365 support services.
IT Support LA is an award-winning Managed Services Provider (MSP):
o  3 Years awarded Best IT by the Small Business Expo
o  Awarded 2nd best company of any type in the US by the Small Business Expo SB100
o  Awarded Best IT in California by Channel Futures
o  Winner of Best IT Support in Los Angeles by Channel Futures
o  Listed as one of the world's Top 501 Managed Services Providers by CRN and in the top 250 in the   'Pioneer' listing
o  4 years listed as one of the Top 501 MSPs in the World by Channel Futures
o  Globee 2021 Bronze Award winner for Chief Technology Officer of the Year
o  Globee 2022 Gold Award winner for Chief Technology Officer of the Year
o  Named one of 2022's 50 'Best' businesses in California by UpCity
o  Named Best of IT Services winner by UpCity
o  Winner of Local Excellence Award for 2021, 2022 and 2023 by UpCity
o  Named Best of Cloud Consulting winner by UpCity
o  Certified as Top MSP and Cybersecurity Pro by UpCity
o  Named Best IT Support in Los Angeles by Expertise.com.
For more information, or to receive your FREE no-risk network and Cybersecurity assessment, just fill out the form on this page or call us at:
818-805-0909