Does Your IT Guy Often Stand you up or Make You Wait? We'll Be Your Valentine, and We Will 'Show You The Love' With a Special Valentine's Gift!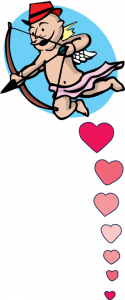 Finally, a Valentine's Day gift that won't make you fat or give you cavities! During the entire month of February, we're having a special event for the community that has been so good to us to show you a little love and appreciation.
Does Your IT Provider treat you like a bad date - not calling back, being late or even a no-show? Give us a try, because we're the best date around—we won't just pull up outside and honk, we'll escort you to the car and open the door for you!
If your current IT company isn't "showing you the love", we'd like to offer you a "sweet" Valentine's Day Gift as a no-risk way of introducing our services to you and to entice you to "break up" with your current unresponsive, uncaring IT company. There's no reason for you to 'get comfy' with bad, unresponsive service. It's like Mama used to say, "You'd Better Shop Around".
No matter what issues you may be having, we want to give you a 'no strings' gift of $500 in FREE IT Support Services to diagnose and work on any area of concern you may have on your network!
Contact us today to claim your FREE gift!
818-797-5300 OR Fill out the form on this page!