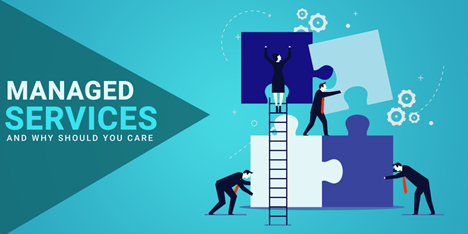 Up-to-Date or Obsolete?
Sometimes, that old saying, "If it ain't broke, don't fix it," doesn't address serious breakages that are imminent. In the IT world this has never been more accurate. Your network is not a toaster, although in the blink of an eye, a hacker can turn your entire system into toast. Just because it hasn't happened yet doesn't mean it won't. A Ransomware attack is not a matter of IF, but of WHEN.
Your business and your success is a result of 'forward thinking'. If you are not gaining ground, you're falling behind. Every technology that helps you accomplish your company goals is changing all the time: Your operating systems, desktops, laptops, tablets, smartphones, online collaborative tools, backup systems – literally everything to do with all the manifestations your communications take, are all changing around you.
Just like that old 'broken' saying doesn't apply to IT, the outmoded, obsolete IT model of the 'Time and Materials' approach, which we in the industry call 'Break & Fix (B&F) does not serve a business well as the future unfolds before us.
If you have a minimum of five computer users in your office, Managed Services makes perfect sense, both financially and pragmatically. If your network goes down and you have an 'IT guy' operating on the B&F concept, your productivity grinds to a halt while the IT guy drives over and starts trying to figure out what the problem is. His livelihood depends on producing billable hours – the more hours he can bill for, the better off he is, and the worse off you are, with zero productivity.
Perhaps your office has seven computers and an employee who 'knows some things' about computers – the operative phrase being 'some things'. When a problem is beyond his or her expertise, not only do you have to call a B&F IT guy, but most likely you have to find one. You Google up some names in the area and have to make a fairly quick decision who you trust the most. Which is the best 'Pig in THIS Poke?' Not a good place to be. At all.
Reliability and Consistency
These are two factors you need from both your network and your IT provider. Working with a proven Managed Service Provider (MSP) is not only financially beneficial as an ongoing cost savings, but it enables you to stay ahead of the curve, not the victim of an ongoing series of emergencies, where your paid staff is idle with their work not being done, leaving your company unable to produce your products or services, possibly missing deadlines and putting a strain on your own reliability in your customers' eyes.
IT Support LA, like any Top-Notch MSP, monitors your system 24/7 and remotely performs most repairs before you are even aware you need help. In fact, with true proactivity, they know what problems loom ahead by calculating your usage, data storage and hardware capacities.
For example, a user fires up the computer in the morning and it immediately stalls out or runs too slowly to get anything done. Hours later, the B&F It guy shows up, spends time troubleshooting and says that your hard drive is full, or perhaps you don't have enough RAM (Random Access Memory) to operate your software after the last big update or upgrade.
Security and Compliance
With ever-expanding fines and penalties for data breaches of client data, this has become a major concern for every type of business. Particularly in today's world with a vast expansion of remote workers. Hackers have always targeted remote users as the network's most vulnerable connection.
A breach can leave a business with a loss of reputation as well as a loss of money. An MSP will supplement additional Policies and Procedures and Protocols for enhanced protection, as well as a bulletproof data recovery plan, which is initiated and routinely tested.
What is in the Budget?
An IT budget is easily predicted with an MSP, not with a B&F guy. The MSP works on an all-inclusive basis for a flat fee per user, so you always know what your IT expenditures will be. Some plans even include hardware upgrades, licensing, and software updates, which may or may not be covered in your Service Level Agreement (SLA).
Here is the main reason an MSP is more cost effective: preventing your system from breaking down by routinely performing tasks before they cause a 'failure emergency' keeps their costs low and your productivity high. Smart MSPs pass these savings onto their clients. IT Support LA does. It is truly a Win-Win situation.
A Technology Partner
Many companies require unique solutions, tailored to their specific needs and processes, often concerning every aspect of their operations, from sales to supply chain and everything in between.
An MSP enables a secure data control system that manages work-flow and information. An MSP is ahead of rapidly changing technology, in an ever more complex working environment. An MSP is driving the bus, not chasing it like a stray dog.
About IT Support LA
We embody each and every aspect of the true, top-notch MSP. Our methodologies are iron-clad, yet adaptive to your environment. We are entering our 19th year serving the Greater Los Angeles and Ventura County areas. We have continuously scaled our growth to ensure no 'growing pains', and our technicians are never finished with 'school' – the IT landscape, as well as the nature of Cyber Crime changes constantly, and we maintain that if those who are not a step ahead are far behind.
It is just this philosophy that has made our company award-winning:
2 Years awarded Best IT by the Small Business Expo
Awarded 2nd best company of any type in the US by the Small Business Expo
Awarded Best IT in California by Channel Futures
3 years listed as one of the Top 501 MSPs in the World by Channel Futures
Please call us for a FREE consultation by phone, and we will help you establish safe, reliable, and cost-effective solutions.
818-805-0909