Every business is unique and does their own thing. But one aspect ties them all together regardless of size or industry – IT. All businesses will need to procure the services of an IT team in one form or another. They can either build their own in-house unit or outsource their needs to a professional team.
For those that choose the latter option, there are a myriad of options available to pick from. But with so many possibilities, where do they even start? What are they looking for and how can they maximize their chances of completing a successful project?
IT teams stress over this question as well since they want to embody the traits that companies are looking for in an ideal partner. Fortunately for us, we were able to solve this riddle for ourselves after one of our clients wrote a glowing five-star review about us on Clutch: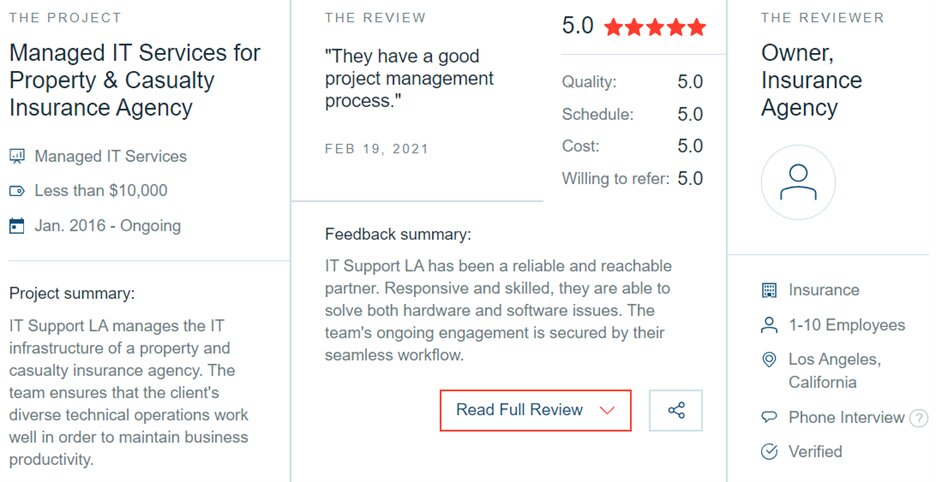 Incidentally, this review also pushed us higher on the top company rankings on The Manifest – a business ranking platform.
We're definitely doing something right and we'll be sharing those things today. Here are the things that make us the IT team that fits your project best.
Proactive Management and Professional Initiative
Some company bosses know a thing or two about IT services, they might even have gotten their start in the industry. But a significant portion of business heads,especially with SMEs, have little to no idea of what to do or where to start.
One of the major points that our client wrote about in the review is that they were comfortable in the knowledge that everything will be handled. They just got out of the way and waited for everything to work.
This makes sense because these businesses aren't looking for a seminar, they just want something done. Their expectation upon signing a contract is to give their partner the keys to the system and never have to look at it again until it's working the way it should.
Responsiveness In Remote Times
In a time where everyone is working apart from each other, there's an anxiety about whether or not you can reach your counterpart again after your last call. This is one of the reasons why work-from-home set-ups were generally discouraged before COVID-19 forced everyone's hand.
When a company partners with an IT team, a certain level of trust is given that we'll do what we say we'll do. One thing we did to encourage that trust is keeping to a reliable response timetable.
Our client talked about always having a feeling that they can reach out to us whenever they needed. This gave him peace of mind as a business owner since he fully trusts that we're not a fly-by-night operation. This is something companies need and justifiably demand when they can't meet us face-to-face.
These two relatively minor things can change the world in terms of how companies will view your team. For our part, we've already proven what we're capable of. In fact, what you read on our review is exactly what you need then contact us today.