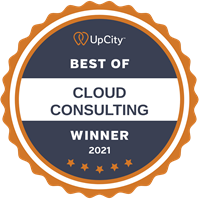 October 20, 2021: IT Support LA has been named to UpCity's short list of 'Best Cloud Consulting' winners in North America. The list is comprised of the Top 25 Cloud Consulting services across the US and Canada. As the award standings are not ranked, we share this honor equally with our fellow 24 colleagues, to whom we offer our hearty congratulations.
As a longtime member of the Cloud Services Los Angeles Community, IT Support LA has been offering cloud services for many years and are closely involved with the partnerships we have forged in the cloud hosting community. We are proud of the high ranking we have received from many organizations who maintain prominent positions among the most prestigious companies in the world that rate products and services, including UpCity.
Whether through local networks or through cloud-based platforms, we provide unparalleled expertise in Managed IT services, as well as auxiliary 'back-end' IT services to companies' In-House IT support departments. A part of what has allowed us the honor of this award are the glowing reviews that our clients have written about us – many featured on UpCity, Google, Yelp, BBB and others.
About UpCity
In their own words:
"UpCity  is a resource that helps connect businesses to service providers they can trust. With more than 50,000 listed providers—from marketing agencies to accounting firms to HR consultants, and many more—1.5 million businesses (and counting) have visited UpCity to identify the best partner for their needs. Our mission is to facilitate successful relationships, so we created our data-driven Recommendability Rating to help guide us in ranking and recommending the top service providers in each local market and nationally.
For businesses seeking services, the transparency and trust we provide through reviews and data-driven insights help dramatically improve the B2B partner selection and purchase experience. Since our Recommendability Rating measures a variety of quality signals, businesses seeking services also have all the information they need to be confident in their choice
UpCity was founded in 2009 with the goal of helping businesses navigate the rapidly changing world of digital marketing. As the number of marketing service providers grew, so did the challenges for businesses searching for information they could trust to drive their decisions. We launched a core resource in 2017 to empower successful relationships between businesses and marketing service providers by providing transparent, trustworthy information."
"UpCity's proprietary Recommendability Rating algorithm measures each of our B2B Service Providers across nine digital signals, providing data-driven guidance for your potential new partner—helping you skip the guesswork."
Over the years, UpCity's Reviews for a Cause has donated $5 to various charities for every member review posted on their site. They run several campaigns throughout the year, and the recipient for this latest campaign was The American Stroke Association.

About the Awards:
UPCity bases their awards on a number of criteria, including their Recommandability Ratings as well as proprietary algorithms which measure the credibility and trustworthiness of the winners. Since UpCity's basic business model consists of pairing up businesses with different types of vendors, their own reputation is on the line with every referral, these two factors, in additions to capability and competence, are of paramount concern.
They utilize a number of data points designed to help business owners find vendors that are a perfect fit for their enterprises, not the least of which are client reviews. Well aware that many sites have no filtering for fake vs real reviews, they use their own verification process: "Fighting fake reviews is our specialty—every review on UpCity is verified and validated by our quality team so you don't have to worry if "Jane Jones" from Kansas City is real. She is."

All of these factors have led them to identify the Top 25 IT support and services Providers in North America. The 25 are in no particular order – there is no gradation from 1st to 25th. All winners share equal status within the 25.
About IT Support LA
Since 2002, IT Support LA has been a prominent member of the IT Support Los Angeles Community. We take a holistic, proactive approach to network management, rather than a mantra of "break & fix". With our system, IT becomes virtually invisible. We are seriously confident in our ability to take your cares away from the network and allow you to focus on the core nature of your business.
We are a multi-award winning local Managed IT Services provider based in Tarzana, California. We recently began our 19th year in business serving the greater L.A. area and Ventura County, and have an excellent reputation – please check us on Google+, Yelp and the Better Business Bureau. We like to say that "We offer Ferrari service at Ford prices."
With our 100% Money Back Guarantee in writing, we offer a risk-free way for prospective clients to try us out. Because we do not require a 'hard' contract, our clients can fire us at any time with 30 days' notice. We have to be good.
Among the Managed IT services we provide:
IT Help Desk Service
Onsite IT assistance
Cybersecurity
Cloud migration and management
Email migration
Backup and disaster recovery
VoIP phone systems
IT disposition and recycling
Office moves
White Label services (IT to IT)
We embody each and every aspect of the true, top-notch MSP. Our methodologies are iron-clad, yet adaptive to your environment. We have continuously scaled our growth to ensure no 'growing pains', and our technicians are never finished with 'school' – the IT support landscape, as well as the nature of Cyber Crime, changes constantly and we maintain that those who are not a step ahead are far behind.
It is just this philosophy that has made our company award-winning:
2 Years awarded Best IT by the Small Business Expo
Awarded 2nd best company of any type in the US by the Small Business Expo
Awarded Best IT in California by Channel Futures
Listed as one of the world's Top 501 MSPs by CRM and in the top 250 in the 'Pioneer' listing
4 years listed as one of the Top 501 MSPs in the World by Channel Futures
Globee Bronze Award winner for Chief Technology Officer of the Year in the IT Cloud/SaaS category
Please call us for a FREE consultation by phone, and we will help you establish safe, reliable, and cost-effective solutions.
818-805-0909