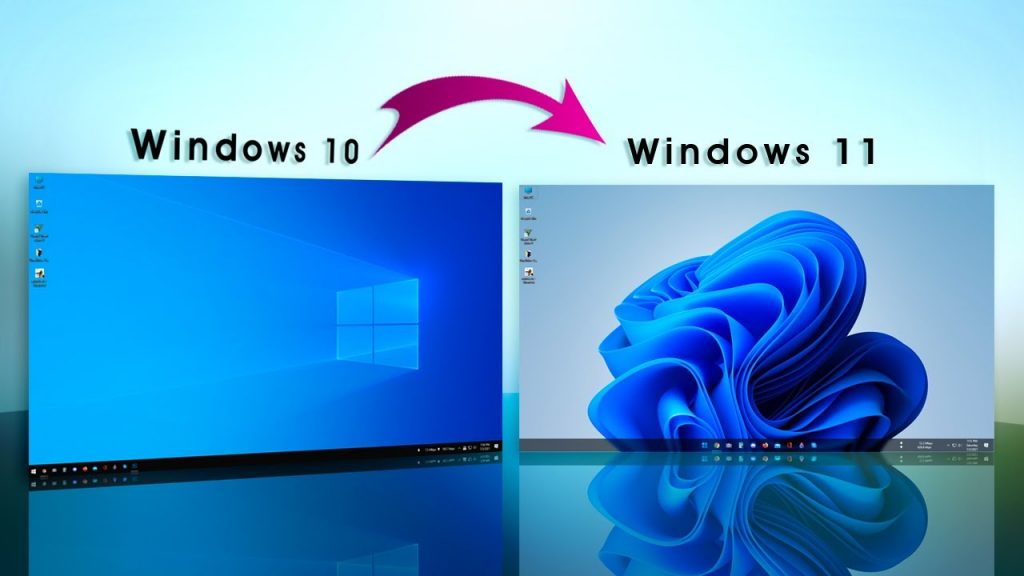 You've got Windows 10, but Windows 11 has been available for about a year now. Should you stay or should you go?
Think back: in a few days, we are coming to the seventh anniversary of the date, July 15, 2015, that Windows 10 was released to manufacturing. Who remembers how many initial problems came with the debut? Who remembers the slew of updates that Microsoft issued to fix those problems that came with it? Let alone the updates that have followed to fix previous flawed updates over the years.
It has taken years for Windows 10 to settle down into some form of stability – but, by and large, things work well now – not perfect, but better.
So why jump straight into Windows 11 when you don't really have to?
For many users, especially consumers, the free upgrade from 10 to 11 will be the best ticket. Microsoft has not published an end date for the freebie but has said it will not be before October 5, 2022. After that, they can terminate the offer at any time without notice. For businesses using 10 on a subscription basis, the benefit of a free upgrade is not as big an issue.
If, for some improbable reason you are still on Windows 7 (or, God forbid, 8), you need to change now. With no support from Microsoft, Windows 7 is a Cybersecurity sieve. If you still have it, you may as well be a possum laying on your back hoping the predators think you're dead. If you do upgrade from 7, the best advice would be to go straight to 11. Not so if you're on 10.
As we had noted in a previous article concerning the final switch from 7 to 10:
"A new OS (Operating System) can either be an improvement or a problem, for both end users and network IT support, whether in-house or with an outsourced Managed IT Services firm.
What we at IT Support LA saw was not a calamity, but an ongoing annoyance – the network equivalent of 'Death by a thousand paper cuts' – little 'make-work' fixes, one after another. Our IT HelpDesk frequently had to deal with these glitches -problems booting up was a regular issue at first, and the often massive updates Microsoft issued caused various problems of their own. Even as its replacement approaches, 10 is still not the most stable of platforms, although many issues have been brought under control over time."
It's nothing unusual when changing over from one OS to another – to varying degrees, it happens every time. As we had noted in the same article, "At IT Support LA, as with much of the IT Support Los Angeles Community, we encouraged the switch (to 10) early, due to the exposure of increasing vulnerabilities once Microsoft began 7's planned obsolescence."

The operative word there was 'early.' At that point in the lifespan of Windows 7, Microsoft had already stopped standard tech support, and all s3ecurity patches and updates would soon be discontinued. Windows 10 is three years away from the Microsoft 'phasing out' process.
There really is no pressing need to jump to Windows 11 yet – unless you can't wait to get ahold of these new features:
1) A new user-friendly interface with a cleaner design – it has been compared to what Apple has. Reminds me of when Pepsi started tasting more like Coke.
2) Easier to manage virtual desktops, and the ability to toggle between different desktops – again, like what MacOS does.
3) Better Microsoft Teams integration. This may be worth it – just to get rid of the frustration working with Teams can produce. It will now be more accessible on the taskbar and from a variety of devices from both Microsoft and Apple.
4) The ability to access Widgets directly from the taskbar.
5) Easy Android App Integration directly from the Microsoft Store to your PC.
6) Multitasking features like Snap Groups and Snap Layouts which corral apps and windows commonly used in tandem into one place for better task-switching. This will enable more seamless transition from monitor to monitor to laptop as well. At first glance, this seems similar to the UI (User Interface) on Google Workspace, which was a major advancement from G Suite – a real time-saver.
Before making the jump to Windows 11, make sure your computer is compatible and 11 will run on it.
What can run Windows 11?
The basic system requirements are not 'worlds away' from most computers installed within the last few years. BUT – if you are hanging onto a very old workstation, pay heed that to run 11 you will need: 1GHz CPU, 4GB RAM, and 64GB storage, with the necessity for a TPM (Trusted Platform Module) Security Chip  and Secure Boot capability. To support 11, your CPU (Central Processing Unit) will need to be current – within the last 4 years or so. Note the 4GB RAM: Many older computers came with 2GB RAM as a standard which has become insufficient over time. This is not a big deal, as other factors have required the upgrade to 4GB already.
Frequently Asked Questions
Q: Is Windows 10 still better than Windows 11?
A:  Both win out in some ways – it depends on what is important to you. As noted above, 11 does have some interesting new features, but pcmag.com lays out a good argument for 10 – and shows you what you will be losing if you upgrade.
Q: Is Win 11 slower than win 10?
A: No. A number of speed tests have shown them  both to be about the same – perhaps a small edge to 11.
Q: Will Windows 11 take up more space?
A:  No. A number of speed tests have shown them  both to be about the same – perhaps a small edge to 11.
Q: Is Windows 11 stable now?
A: Mostly, but not 100%. There are still lagging issues, but nothing devastating. Some problems, like slow start-up, have fixes that your IT support can easily address.
How secure is your network?
As a reputable member of the IT Support Los Angeles community since 2002, IT Support LA offers a FREE, no-risk network and security assessment. It is a non-intrusive scan that allows us to deliver a comprehensive report that is yours to keep. No strings, and no obligation to ever use our Managed IT Services.
The best defense is the best Cybersecurity to protect your data from theft, and a top-notch Managed IT Services firm to ensure continued reliability and defenses against newly emerging threats.
Just fill out the form on this page or call us at:
818-805-0909