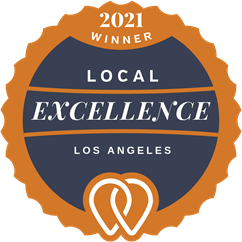 For more than a decade, UpCity's mission has been—and continues to be—to help businesses find B2B service providers they can trust. The UpCity Recommendability Rating was developed to determine a service provider's credibility and recommendability, giving UpCity the confidence to recommend them to the more than 1.5 million businesses that visit their site.
Each year, UpCity analyzes and scores more than 70,000 service providers based on their UpCity Recommendability Rating and acknowledges the top national and local providers with an UpCity Excellence Award. The results are in, and we won!
We are ecstatic to announce that the IT Support LA team has been recognized as one of the top B2B service providers of 2021 in the Los Angeles area by UpCity!
IT Support LA offers an all-inclusive approach to IT services for small businesses in the Los Angeles area.  Whether you are seeking IT managed services, infrastructure support, or other information technology services, we can tailor a custom solution to meet your needs and budget.
Dan Olson, CEO of UpCity, had this to say about IT Support LA:
"IT Support LA is a unique company that prides itself on staying local to ensure every client gets the solutions and support they need to be successful. The professionals at IT Support LA create detailed plans that include a variety of IT services at affordable prices without needing to depend on long-term contracts. It is my honor to recognize them for their outstanding service with the UpCity Local Excellence award."
This recognition has been driven in large part by our 5-star review rating on UpCity. Here are a few of our favorite pieces of feedback we've received from our incredible customers:
"IT Support has been my firm's IT support company for the last couple of years. They have been terrific and have helped bring our technology up to current standards. I would recommend them to anyone without hesitation."
"We are going into our second year with IT Support LA. With all-new endeavors, there is an ebb and flow learning each other's operations. Thus far I am happy to say that we are satisfied customers and we look forward to our continued business relationship with IT Support LA. Keep up the good work guys!"
"We have used many IT companies in the past but IT Support LA has far surpassed the quality and service of any other company. They have made the transition to working from home seamless and they are available to resolve issues immediately."
Thank you to UpCity for this prestigious award and to all of our clients who have made this possible. We enjoy the opportunity to get to know our clients and help them with all of their IT solutions. We look forward to continuing our partnerships with our clients and finding new and innovative ways to help them stay current!