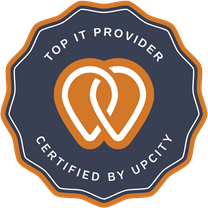 IT Support LA is thrilled to officially announce that we have been recognized as one of the top IT service consultants in Los Angeles and nationally by UpCity!
At IT Support LA, we know that saying we are "results-driven" versus actually being results-driven are two different things. No matter the project, we make sure nothing is a "Band-Aid fix" and we get to the root of our client's problem to effectively solve it. This is only one reason our Los Angeles-based company has been recognized by UpCity as not only one of the best IT service consultants in our area but also nationally in the United States.
UpCity is a resource that helps connect businesses to service providers they can trust. With more than 50,000 listed providers—from marketing agencies to accounting firms to HR consultants to IT specialists, and many more—1.5 million businesses (and counting) have visited UpCity to research and identify the best partner for their needs.
UpCity's proprietary algorithm utilizes a variety of digital signals to measure the credibility, trustworthiness, and recommendability of B2B service providers across the U.S. and Canada. These digital data points like reviews (both on UpCity and other third-party review sites), presence in relevant search results, domain authority, website speed and experience help UpCity connect businesses with outstanding service providers like IT Support LA. Dan Olson, CEO of UpCity, had this to say about the IT Support LA team:
"The philosophy of the IT Support LA team is one we can all learn from. They embody fairness, honesty, and integrity because they hold a high amount of respect for their clients and their time, which is why we're happy to announce them as one of the top IT service consultants in the LA-area."
–Dan Olson, CEO, UpCity
This recognition has been driven in large part by our perfect 5-star UpCity review rating and Google My Business review rating. Here are a few of our favorite pieces of feedback we've received from our amazing customers:
"We love having IT Support LA for all our managed IT services! They are always so quick and responsive to our needs when they arise. Their technicians are extremely friendly and knowledgeable. Having the managed services allows our business to concentrate on other things knowing that IT Support LA has got all our computer needs covered. I would recommend them to everyone!"
"We've been working with IT Support LA for a few years now and the whole experience has been nothing short of amazing. They really know what they're doing and even though the technology market is changing by the minute they're always on top of their games, knowing everything that's happening and coming up so we are always well protected against malware and/or in the know about potential compatibility issues with our apps and new systems. They're truly amazing to work with."
We're extremely proud of this recognition and want to thank the UpCity team for this honor. We also want to thank our clients for trusting us as a go-to source. Without you, none of this would be possible.