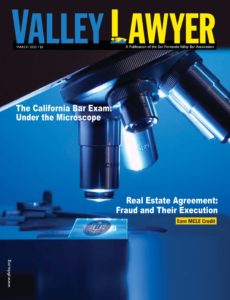 March 29, 2022: Valley Lawyer Magazine, the esteemed monthly publication from the prestigious San Fernando Valley Bar Association (SFVBA), published an article in this month's issue written by our own Director of Business Development, David Mercy.
As a longtime, prominent member of the IT Support Los Angeles community, we take immense pride in our work's inclusion in this important law magazine as part of our commitment to serving the legal community in Los Angeles.
The article, titled 'Work from Home Forever? The Post-Pandemic Business Model' offers options and information on the new working arrangements that businesses are continuing to work out with their employees, with a focus on the ongoing implications of maintaining a remote workforce for law firms as well as any other type of business.
IT Support LA has long been deeply involved with the legal community, both as non-attorney members of the SFVBA, and holds seminars concerning Cybersecurity and Managed IT Services for law groups throughout the Greater Los Angeles area.
The article may be read in its entirety on page 32 of the March online issue of Valley Lawyer Magazine HERE.
Following are select excerpts:
"While the fundamental nature of your law practice has most likely remained consistent over the last two years, the methodology involved in producing your work have certainly gone through some changes. Following the initial COVID lockdowns, the numbers of owners and employees operating as a remote workforce have grown exponentially across all types of enterprises, but especially in law."

**

" Turn Alexa OFF!

If you have this handy little Amazon voice assistant, turn off the microphone when you are working. Alexa is always awake, she is always listening, she records everything and transmits those recordings to Amazon, and she is far from flawless. Strategizing about a case? Discussing the terms of a settlement? Keep it between concerned parties.

According to Geoffrey A. Fowler, writing in The Washington Post:
"Many smart-speaker owners don't realize it, but Amazon keeps a copy of everything Alexa records after it hears its name. Apple's Siri, and until recently Google's Assistant, by default also keep recordings to help train their artificial intelligences."[i]
(Just how my discussion about dinner plans helps these Amazon geniuses train their AI is a mystery).

Fowler goes on to say, "It's supposed to record only with a "wake word" — "Alexa!" — but anyone with one of these devices knows they go rogue. I counted dozens of times when mine recorded without a legitimate prompt."

That's all you need – some Amazon or Apple employee hearing confidential information and figuring that they can sell it to make a few bucks. Everybody leaks."

**

"The answer is in the cloud

There have been two transitional surges affecting business technology in the last two years: One was to a remote workforce and the other has been to the cloud.

It's a no-brainer when you consider the inherent vulnerabilities and spottiness of reliability in working with a local network-based remote workforce. Think of it as a hose. You need it to stretch out 120 feet. The old local network is like arriving at that length by joining together four 30-foot hoses (office server, internet, VPN & Wi-Fi): Too many places that can spring a leak.

Placing ALL your operations in the cloud is akin to using the 120-foot hose. It's direct, secure, and although internet dependent, much more reliable.

For years, the two most-used cloud services have been for data backups and email hosting, but since March of 2020, American enterprise has placed more of their operational burden on the cloud. It has become a necessity in order to maintain business continuity in the face of a worldwide upheaval."
About the SFVBA
"Since 1926, the SFVBA has served members and the public with distinction and has been a strong voice for the San Fernando Valley legal community.
More than 2,000 members continue a historical tradition of responding to the challenges and needs of the community by donating time and resources to the San Fernando Valley Bar Association's public service programs. The SFVBA helps attorneys develop and improve their practice of law by providing networking and referral opportunities, continuing legal education, and discounted services. Sole practitioners as well as large law firms find value in membership."
About IT Support LA
We are a local Managed IT Services provider based in Tarzana, entering our 20th year serving the greater Los Angeles area and Ventura County, and have an excellent reputation – please check us on Google+, Yelp and the Better Business Bureau.
We take a holistic, proactive approach to network management, rather than a mantra of "break & fix" (which we do as well). With our system, IT support becomes virtually invisible. We are seriously confident in our ability to take your cares away from the network and allow you to focus on the core nature of your business.
It is just this philosophy that has made our company award-winning:
3 Years awarded 'Best IT' by the Small Business Expo
Twice ranked as one of the 100 best companies of any type in the US by the Small Business Expo
Awarded Best IT Support in California by Channel Futures
Winner of 'Best IT' in Los Angeles 2021 by Channel Futures
Listed as one of the world's Top 501 MSPs by CRN and in the top 250 in the 'Pioneer' listing
4 years listed as one of the Top 501 MSPs in the World by Channel Futures
Globee Bronze Award winner for Chief Technology Officer of the Year in the IT Cloud/SaaS category
Named Best of IT Services winner for 2021 by UpCity
Winner of Local Excellence Award for 2021 by UpCity
Named Best of Cloud Consulting winner for 2021 by UpCity
Certified as Top Managed Services Provider and Cybersecurity Pro for 2021 by UpCity
Named Best IT Consultant in Los Angeles for 2021 by Expertise.com.
Media Contact:
David Mercy
VP of Business Development
IT Support LA
david@itsupportla.com