We are very happy to announce that the IT Support LA team has been recognized as one of the top B2B service providers of 2023 in Los Angeles by UpCity!
For more than a decade, UpCity's mission has been—and continues to be—to help businesses find B2B service providers they can trust. Each year, UpCity analyzes and scores more than 50,000 service providers based on their UpCity Recommendability Rating and acknowledges the top national and local providers with an UpCity Excellence Award. The results are in, and we won!
Our mission at IT Support LA is to provide all-inclusive IT services for local small businesses with an emphasis on eliminating long term contracts, hidden fees, and unwanted surprises. This results in long-lasting relationships with our customers. As our name suggests, we exclusively serve LA-based clients in order to focus on serving our community.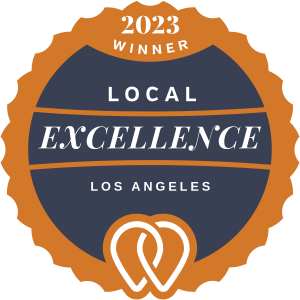 This recognition has been driven in large part by our 5-star review rating on UpCity. Here are a few of the glowing reviews  we've received from our incredible customers:
"IT Support LA has been my firm's IT support company for the last couple years. They have been terrific and have helped bring our technology up to current standards. I would recommend them to anyone without hesitation." —Justin Clark, March 2021
"We are going into our second year with IT Support LA. With all new endeavors, there is an ebb and flow in learning each other's operations. Thus far I am happy to say that we are satisfied customers and we look forward to our continued business relationship with IT Support LA. Keep up the good work guys!." —Dave Armstrong, March 2021
"Yuri Aberfeld and his team provide top-notch IT services for our firm. They are always quick to respond and a pleasure to work with. In addition to keeping our systems running safely, they are always there to help us think through technology upgrades. I highly recommend IT Support LA!" —Alexis James, March 2021.
As an award-winning service provider, IT Support LA understands the value of clients who trust us to contribute to the ongoing success of their business, and we do not take this responsibility lightly. We embody a steadfast commitment to delivering IT services that are much more than just a cut above the norm. We believe that we offer a completely new type of relationship-based IT experience to our clientele, and we're excited to cultivate these existing and new customer relationships in 2023 and beyond.
About the UpCity Recommendability Rating
The UpCity Recommendability Rating was developed to determine a service provider's credibility and trustworthiness. This rating helps give UpCity the confidence to recommend a service provider to the more than two million businesses that visit our marketplace, which is powered by over 35,000 verified reviews. Read more about the UpCity Excellence Award here.
About UpCity
In their own words:
"UpCity  is a resource that helps connect businesses to service providers they can trust. With more than 50,000 listed providers—from marketing agencies to accounting firms to HR consultants, and many more—1.5 million businesses (and counting) have visited UpCity to identify the best partner for their needs. Our mission is to facilitate successful relationships, so we created our data-driven Recommendability Rating to help guide us in ranking and recommending the top service providers in each local market and nationally.
For businesses seeking services, the transparency and trust we provide through reviews and data-driven insights help dramatically improve the B2B partner selection and purchase experience. Since our Recommendability Rating measures a variety of quality signals, businesses seeking services also have all the information they need to be confident in their choice
UpCity was founded in 2009 with the goal of helping businesses navigate the rapidly changing world of digital marketing. As the number of marketing service providers grew, so did the challenges for businesses searching for information they could trust to drive their decisions. We launched a core resource in 2017 to empower successful relationships between businesses and marketing service providers by providing transparent, trustworthy information."
"UpCity's proprietary Recommendability Rating algorithm measures each of our B2B Service Providers across nine digital signals, providing data-driven guidance for your potential new partner—helping you skip the guesswork."
About IT Support LA
Since 2002, We have been a prominent member of the Los Angeles business community. We take a holistic, proactive approach to network management, rather than a mantra of "break & fix." With our system, IT becomes virtually invisible. We are seriously confident in our ability to take your cares away from the network and allow you to focus on the core nature of your business.
We are a multi-award-winning local MSP based in Calabasas, California. We recently began our 20th year in business serving the greater L.A. area and Ventura County and have an excellent reputation – please check us on Google+, Yelp and the Better Business Bureau. We like to say that "We offer Ferrari service at Ford prices."
With our 100% Money Back Guarantee in writing, we offer a risk-free way for prospective clients to try us out. Because we do not require a 'hard' contract, our clients can fire us at any time with 30 days' notice. We have to be good.
Among the services we provide:
IT HelpDesk Service
Onsite IT Support
Cybersecurity
Cloud migration and management
Email migration
Backup and disaster recovery
VoIP phone systems
IT disposition and recycling
Office moves
White label services (IT to IT)
We embody each and every aspect of the true, top-notch MSP. Our methodologies are iron-clad, yet adaptive to your environment. We have continuously scaled our growth to ensure no 'growing pains,' and our technicians are never finished with 'school' – the IT landscape, as well as the nature of Cyber Crime, changes constantly and we maintain that those who are not a step ahead are far behind.
It is just this philosophy that has made us an award-winning company:
o  3 Years awarded Best IT by the Small Business Expo
o  Awarded 2nd best company of any type in the US by the Small Business Expo SB100
o  Awarded Best IT in California by Channel Futures
o  Winner of Best IT in Los Angeles 2021 by Channel Futures
o  Listed as one of the world's Top 501 MSPs by CRN and in the top 250 in the   'Pioneer' listing
o  4 years listed as one of the Top 501 MSPs in the World by Channel Futures
o  Globee 2021 Bronze Award winner for Chief Technology Officer of the Year
o  Globee 2022 Gold Award winner for Chief Technology Officer of the Year
o  Named one of 2022's 50 'Best' businesses in California by UpCity
o  Named Best of IT winner for 2021 by UpCity
o  Winner of Local Excellence Award for 2021, 2022, and 2023 by UpCity
o  Named Best of Cloud Consulting winner for 2021 by UpCity
o  Certified as Top MSP and Security Pro for 2021 by UpCity
o  Named Best IT in Los Angeles for 2021 by Expertise.com.
Please call us for a FREE consultation by phone, and we will help you establish safe, reliable, and cost-effective solutions.
818-805-0909